07-09-2018 | Uitgave 1/2019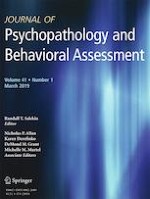 No Trauma, no Problem: Symptoms of Posttraumatic Stress in the Absence of a Criterion A Stressor
Auteurs:

C. Laurel Franklin, Amanda M. Raines, Margo C. Hurlocker
Abstract
Previous research on Posttraumatic Stress Disorder (PTSD) has investigated the sentinel role of Criterion A to the diagnosis. Some researchers have found that PTSD symptom measures are elevated in the absence of a Criterion A stressor. Therefore, the current study sought to extend this research to the
Diagnostic and Statistical Manual, fifth edition
(
DSM-5;
American Psychiatric Association
2013
) using the PTSD Checklist for
DSM-5
(PCL-5; Weathers et al.
2013b
). Data from 222 veterans presenting to a general outpatient mental health clinic at a Veterans Health Administration were asked to complete the PCL-5 after indicating the presence of a stressful or traumatic life event. In line with previous research, the current study revealed no differences between veterans with (
n =
92) and without (
n
 = 120) a Criterion A stressor on PTSD symptom severity, clinically-indicated levels of PTSD, or symptom clusters. However, these groups differed on empirically-identified core symptoms of PTSD (Brewin et al.
Journal of Traumatic Stress 22
(5), 366-373,
2009
), such that veterans with a Criterion A stressor reported significantly more core PTSD symptoms. A significant limitation to these findings is that Criterion A status was examined only via self-report on the PCL-5. The findings highlight the need for more research on the definition of a Criterion A stressor, use of the PCL-5, and the current composition of PTSD symptoms that make up the
DSM-5
diagnostic criteria. In the future, clinicians are encouraged to conduct a thorough trauma assessment in conjunction with a PTSD screening measure to facilitate diagnostic accuracy and treatment planning.