07-08-2021 | Onderzoek | Uitgave 9/2021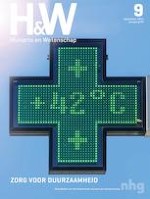 Niet meteen een zool op maat bij plantaire hielpijn
Tijdschrift:
Auteurs:

Nadine Rasenberg, Sita Bierma-Zeinstra, Lars Fuit, Amy Dieker, Peter van Veldhoven, Patrick Bindels, M. van Middelkoop
Belangrijke opmerkingen
Rasenberg N, Bierma-Zeinstra SM, Fuit L, Dieker A, Van Veldhoven PLJ, Bindels PJ, Van Middelkoop M. Niet meteen een zool op maat bij plantaire hielpijn. Huisarts Wet 2021;64(9):16-23. DOI:10.1007/s12445-021-1236-6.
Mogelijke belangenverstrengeling: dit onderzoek ontving subsidie van ZonMW onder nummer 839110008. De Nederlandse Vereniging van Podotherapeuten financierde de interventies in de placebogroep en de zoolgroep. De financiers en subsidieverstrekkers hadden geen invloed op verzameling, beheer, analyse en interpretatie van de onderzoeksgegevens, noch op voorbereiding, herziening, goedkeuring en publicatie van het manuscript.
Samenvatting
Plantaire hielpijn is een veelvoorkomende voetklacht met veel impact. Er zijn verschillende interventies mogelijk, waaronder op maat gemaakte inlegzolen. Die laatste zijn duur (100-150 euro) en er is geen evidence voor. In dit gerandomiseerde gecontroleerde onderzoek met 185 deelnemers bleek dat een op maat gemaakte zool in eerste instantie geen toegevoegde waarde heeft ten opzichte van een placebozool of gebruikelijke zorg door de huisarts. Of dit ook geldt bij aanhoudende klachten of bij specifieke subgroepen is niet onderzocht.