01-09-2011 | NHG Standaard | Uitgave 9/2011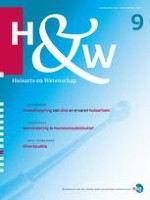 NHG-Standaard Diverticulitis
Tijdschrift:
Auteurs:

Marjolein Berger, Niek de Wit, Rogier Vogelenzang, Raymond Wetzels, Nathalie van Rijn-van Kortenhof, Wim Opstelten
Abstract
Berger MY, De Wit NJ, Vogelenzang R, Wetzels RV, Van Rijn-van Kortenhof NMM, Opstelten W. The NHG Guideline Diverticulitis. Huisarts Wet 2011:54(9):492-9.
This guideline provides advice on the diagnosis and treatment of diverticulitis in general practice. Diverticulitis occurs when diverticula, small pouches bulging from the wall of the colon, usually the descending colon, become inflamed. Complicated diverticulitis occurs when the inflammation is accompanied by complications, such as peridiverticulitis, abscess formation, or perforation. Bleeding may occur from a diverticulum, regardless of whether the diverticulum is inflamed or not. Diverticulitis of the ascending colon cannot be distinguished clinically from appendicitis.
Uncomplicated diverticulitis is suspected if the patient reports the development, within a couple of days, of persistent sharp, stabbing pain in the lower left abdomen; if there is pressure and/or rebound tenderness only in the lower left abdomen; and if there are no alarm signals. Fever (temperature > 38.0 ºC) and a raised level of C-reactive protein (arbitrarily >20 mg/L) support the diagnosis. Complicated diverticulitis is diagnosed if one or more of the following symptoms are also present: (i) signs of peritoneal irritation (guarded muscle response); (ii) signs of intestinal obstruction (vomiting, high-pitched peristalsis with tinkling bowel sounds); (iii) rectal bleeding (diverticular bleeding); (iv) locally palpable resistance (infiltrates/ abscess); (v) hypotension (septic shock or hypovolaemic shock due to massive diverticular bleeding). A strongly increased C-reactive protein level (arbitrarily >100 mg/L) should alert the doctor to possible complications. Immunocompromised patients, such as those with diabetes or those on immunosuppressive medication (such as prednisolone, methotrexate, and TNF-a blockers), are at increased risk of complicated diverticulitis. The differential diagnosis includes irritable bowel syndrome, appendicitis, colorectal carcinoma, gastroenteritis, constipation, inflammatory bowel disease, pelvic inflammatory disease, and torsion of a left ovarian cyst.
General practitioners should immediately refer patients with signs of complicated diverticulitis to a surgeon. Patients with uncomplicated diverticulitis can be managed by the general practitioner provided that clinical signs are closely monitored: patients should be reviewed the next day if symptoms are severe and after a couple of days if symptoms are mild. Patients should be advised to seek medical attention if they start to vomit, experience rectal bleeding or symptom deterioration, or have a temperature higher than 39 ºC. There is no evidence that bed rest or dietary advice is effective. Pain should be treated with paracetamol; NSAIDs are not advised because of their gastrointestinal side effects. Laxatives such as lactulose and macrogrol are recommended for the treatment of constipation. Antibiotics are not advised since there is no evidence of their effectiveness in uncomplicated diverticulitis. In case of diagnostic uncertainty, persisting symptoms, or an atypical clinical course, general practitioners should refer patients to a gastroenterologist.
Imaging investigations are not necessary if patients are symptom-free after an episode of diverticulitis. Colonoscopy is indicated only if symptoms are persistent, to exclude cancer or inflammatory bowel disease. Recurrent episodes of diverticulitis without persistent symptoms after the acute phase do not warrant referral.