01-02-2020 | Artikelen | Uitgave 1/2020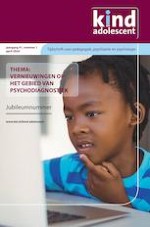 Neuropsychologische profielen van kinderen met een autismespectrumstoornis in relatie tot hun intelligentie
Tijdschrift:
Auteurs:

Dr. Nanda Rommelse, Drs. Ilse Langerak, Dr. Jolanda van der Meer, Drs. Yvette de Bruijn, Dr. Anoek Oerlemans
Belangrijke opmerkingen
Dit artikel is een Nederlandstalige bewerking van het in open access gepubliceerde artikel: Rommelse, N., Langerak, I., Meer, J. van der, Bruijn, Y. de, Staal, W., Oerlemans, A., & Buitelaar, J. (2015). Intelligence may moderate the cognitive profile of patients with ASD.
PLoS One, 10
(10), e0138698.
Samenvatting
Achtergrond
Het intelligentieniveau van kinderen en adolescenten met een autismespectrumstoornis (ASS) kan binnen deze groep enorm variëren. Het doel van de studie was het onderzoeken van de absolute en relatieve ernst van de neuropsychologische problemen van kinderen en adolescenten met ASS afhankelijk van hun IQ.
Methode
In totaal namen 274 kinderen deel (
M
leeftijd = 12,1, 68,6 % jongens): 30 kinderen met ASS en 22 zonder ASS met een benedengemiddeld IQ (IQ < 85), 57 kinderen met ASS en 54 zonder ASS met een gemiddeld IQ (85 < IQ < 115) en 41 kinderen met ASS en 70 zonder ASS met een bovengemiddeld IQ (IQ > 115). De groepen werden gematcht op leeftijd, geslacht, Totaal IQ, Verbaal IQ (VIQ), Performaal IQ (PIQ) en VIQ-PIQ-discrepantie. Snelheid en accuratesse van sociale cognitie, executieve functies, visuele patroonherkenning en basale informatieverwerkingssnelheid werden per domein en als samengestelde score onderzocht.
Resultaten
De geaggregeerde neuropsychologische score gaf een trend-significante interactie tussen IQ en ASS te zien (significant wanneer de gemiddeld intelligente groep geëxcludeerd werd). In
absolute
termen presteerden de kinderen met een benedengemiddelde intelligentie het zwakst (ongeacht ASS-diagnose). Echter,
relatief
hadden de kinderen met een bovengemiddelde intelligentie en ASS de grootste neuropsychologische problemen (vooral in de domeinen sociale cognitie, visuele patroonherkenning en verbaal werkgeheugen), omdat deze groep het sterkst afweek van de op IQ gematchte controlegroep zonder ASS (
p
 < 0,001), terwijl dit niet het geval was voor de kinderen met een benedengemiddelde intelligentie en ASS (
p
 = 0,57).
Conclusie
In
relatieve
termen lijken de neuropsychologische problemen van bovengemiddeld intelligente kinderen met ASS ernstiger dan die van benedengemiddeld intelligente kinderen met ASS. Ondanks dat er sprake is van een beschermend effect vanuit een hogere IQ-score, laten bovengemiddeld intelligente kinderen met ASS neuropsychologische problemen zien die speciale aandacht verdienen in de diagnostiek en behandeling van deze groep. De bevindingen suggereren dat intelligentie als moderator fungeert in het neuropsychologische profiel van ASS, waarbij er relatief verschillende neuropsychologische processen een rol spelen bij beneden- versus bovengemiddeld intelligente kinderen met ASS.