01-04-2011 | Review Paper | Uitgave 2/2011 Open Access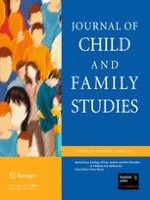 Negative Social Cognitions in Socially Anxious Youth: Distorted Reality or a Kernel of Truth?
Tijdschrift:
Auteurs:

Anne C. Miers, Anke W. Blöte, P. Michiel Westenberg
Abstract
We review studies that investigate negative social cognitions of socially anxious youth in relation to two specific domains: interpretation of ambiguous social situations and self-evaluation of social performance, including social skills and nervous behaviors. In this review, we address the question whether socially anxious youth's negative perceptions are distortions of reality or reflect a kernel of truth as compared to other sources of information including independent adult observers and age peers. Studies key to this question are those that investigate not only the social perceptions themselves but also the social behavior of socially anxious youth. Hence the selection of studies for the review was based on this criterion. From the relevant literature it is, as yet, unclear whether the negative interpretations of ambiguous social situations shown by socially anxious youth are distorted or a reflection of reality. Socially anxious youth's self-evaluations of social skills appear partly distorted and partly true, depending on the person judging the social skills. In contrast, self-evaluations of nervous behaviors appear distorted. The studies reviewed indicate that research would benefit from including a wider range of perceptions from persons relevant to the socially anxious youth's daily social environment, not only parents and teachers but also their age peers.