01-12-2006 | Artikel | Uitgave 6/2006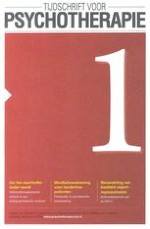 Naar een integratieve behandeling op maat bij partnergeweld
Tijdschrift:
Auteurs:

Sara Kroes, Wim Trijsburg
Belangrijke opmerkingen
drs. s. kroes
, psycholoog, is behandelaar verslavingszorg bij Parnassia, Den Haag.
prof. dr. r.w. trijsburg
is hoogleraar psychotherapie aan Erasmus MC en Nihes, Rotterdam en aan de Universiteit van Amsterdam.
Correspondentieadres: R.W. Trijsburg, afdeling Medische psychologie en psychotherapie, Erasmus MC, Postbus 1738, 3000 DR Rotterdam.
E-mail:
r.​trijsburg@erasmusmc.​nl
Toward a tailor-made integrative treatment of partner violence
Domestic violence is widespread in our society. Unlike other types of violence, domestic violence is characterized by offender and victim sharing the same environment. This implies high percentages of relapse in domestic offenders. In order to reduce recidivism several psychotherapeutic treatments have been developed. This article describes three treatment models for domestic violence: the Duluth-model, cognitive-behavioral therapy and systemic psychotherapy. An integrative treatment model is presented, based on effective interventions from these treatment models. This model takes the individual risk factors of domestic violence as a starting point. Thus, the integrative treatment model is tailor-made instead of an 'one-size-fits-all' treatment.
Samenvatting
Partnergeweld is een veelvoorkomende geweldvorm in onze samenleving. Anders dan bij andere vormen van geweld maken dader en slachtoffer deel uit van elkaars leefomgeving. Mede hierdoor is het recidivepercentage onder plegers hoog. Om recidive door partnergeweldplegers te verminderen zijn diverse psychotherapeutische behandelingen ontwikkeld. Dit artikel beschrijft onderzoek naar drie behandelingsmodellen van partnergeweld: het Duluth-model, de cognitieve gedragstherapie en de systeemtherapie. Op basis van de effectiefste onderdelen uit deze behandelingsmodellen wordt een voorstel gedaan voor een integratief behandelingsmodel. Dit model neemt individuele risicofactoren als uitgangspunt voor de toe te passen interventies. Het belangrijkste verschil met de meeste bestaande behandelmodellen is dat het een behandeling op maat is in plaats van een standaardbehandeling.