24-10-2017 | Artikelen | Uitgave 4/2017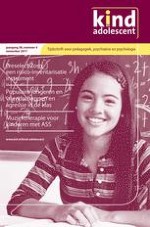 Muziektherapie voor kinderen en jongeren met ASS
Een overzicht van de relevante literatuur
Tijdschrift:
Auteurs:

Mathieu Pater, Prof. dr. Tom van Yperen
Samenvatting
Muziektherapie wordt met grote regelmaat toegepast bij kinderen en jongeren met een autismespectrumstoornis (ASS). De vraag is of dit effect heeft. Dit artikel geeft een overzicht van de recente literatuur op dit vlak. Over de periode 1990 tot en met 2016 zijn 33 studies gevonden naar de inzet en effecten van muziektherapeutische interventies: 6 reviews, 12 RCT/CCT's, en 15 studies waarbij bijvoorbeeld gebruikgemaakt werd van een voor- en nameting zonder een controlegroep of het ging om een casestudy.
In verschillende studies worden significante effecten gerapporteerd van muziektherapie op kinderen en jongeren met de diagnose ASS. Met name op het gebied van de sociale interactie wordt er een groot effect (SMD 1,06) gerapporteerd. Op de gebieden verbale en non-verbale vaardigheden wordt een matig effect (SMD 0,33 en SMD 0,73) gevonden.
De bewijskracht van deze resultaten is matig, doordat de studies vaak een relatief kleine steekproef omvatten of doordat het onderzoeksdesign niet goed is omschreven. Daarnaast wordt muziek op veel verschillende manieren aangeboden, waardoor de vraag rijst of er in de studies altijd van muziektherapie kan worden gesproken. Ook de rationale achter de therapie ontbreekt: waarom zou muziektherapie werken bij ASS? Muziektherapie lijkt effectief bij kinderen met ASS, maar om antwoord te kunnen geven op de vraag welke muziektherapeutische interventie het effectiefst is, blijkt meer onderzoek nodig.