01-11-2011 | Uitgave 8/2011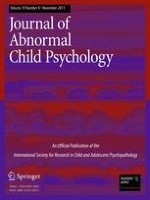 Music and Video as Distractors for Boys with ADHD in the Classroom: Comparison with Controls, Individual Differences, and Medication Effects
Tijdschrift:
Auteurs:

William E. Pelham Jr, Daniel A. Waschbusch, Betsy Hoza, Elizabeth M. Gnagy, Andrew R. Greiner, Susan E. Sams, Gary Vallano, Antara Majumdar, Randy L. Carter
Belangrijke opmerkingen
During the conduct of this research and preparation of this report, Dr. Pelham was supported in part by grants from the National Institute on Drug Abuse (DA05605, DA12414), the National Institute on Alcohol Abuse and Alcoholism (AA06267; AA11873), the Institute of Education Sciences (LO3000665A), and the National Institute of Mental Health (MH48157, MH47390, MH45576, MH50467, MH53554, MH62946). This study was conducted during the 1992–1994 Summer Treatment Programs, which were conducted under the direction of the first author by the Attention Deficit Disorder Program at the Western Psychiatric Institute and Clinic, University of Pittsburgh Medical Center. We thank the Western Psychiatric Institute and Clinic for its support, as well as the staffs of the Attention Deficit Disorder Program, particularly Tracey Wilson and Lynn Rago; the Summer Treatment Programs; the Winchester-Thurston School; and the WPIC research pharmacy for their helpful cooperation.
Abstract
This study examined the effects of music and video on the classroom behavior and performance of boys with and without attention deficit hyperactivity disorder (ADHD) and examined the effects of 0.3 mg/kg methylphenidate (MPH). In one study, 41 boys with ADHD and 26 controls worked in the presence of no distractor, music, or video. Video produced significant distraction, particularly for the boys with ADHD, and MPH improved the performance of boys with ADHD across distractor conditions.There were individual differences in response to the music such that some boys were adversely affected and others benefited relative to no-distractor.In a second study, music and MPH were assessed in an additional 86 boys with ADHD to examine further the music results. In the presence or absence of music, MPH improved performance relative to placebo. Similar individual differences were found as in Experiment 1.