27-03-2017 | Original Paper | Uitgave 7/2017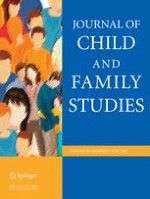 Multiple Child Food Hypersensitivity Impacts Positive Adjustment in Parents
Tijdschrift:
Auteurs:

Karena J. Burke, Jackie Hooper
Abstract
The physical impacts of food hypersensitivities (e.g. food allergy, food intolerance) encompass wide ranging but individually specific reactions. In contrast, the psychological impact of such illnesses extends beyond the individual who suffers the sensitivity. No Australian studies have examined the psychosocial impact of parenting a child with food hypersensitivities. The aim of this study was to ascertain differences in the psychosocial profile of parents raising a food hypersensitive child. Australian parents were targeted through three national support organisations and answered questions regarding their psychological health. Of a total of 990 respondents, 599 had children. These families comprised 1316 children aged 0–18 (
M
 = 7.63 years) and more than half (
n
 = 393) of these families were managing a child with a food hypersensitivity. Parents showed no differences in measured distress. In contrast, positive adjustment was higher for parents of food intolerant children and children with both food allergy and food intolerance, compared to those with non-food hypersensitive children. Moreover parents of children with combined food hypersensitivities reported a greater degree of positive change. The finding that parents of food hypersensitive children were not reporting higher levels of stress than parents without a food hypersensitive child is in stark contradiction to international studies examining both food hypersensitivity and parents of children with a chronic disease more generally. However, it appears that the complexity of the food hypersensitivity had a positive impact on adjustment with parents of children with multiple types of food hypersensitivity reporting greater positive adjustment outcomes.