01-04-2012 | Onderzoek | Uitgave 4/2012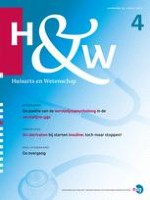 Multidisciplinair zorgmodel in verzorgingshuizen
Tijdschrift:
Auteurs:

Marijke Boorsma, Dinnus Frijters, Dirk Knol, prof.dr. Miel Ribbe, prof.dr Giel Nijpels, Hein van Hout
Belangrijke opmerkingen
arts-onderzoeker
senior onderzoeker
senior onderzoeker
hoogleraar huisartsgeneeskunde. Afdeling Epidemiologie en biostatistiek
senior onderzoeker. Afdeling Verpleeghuisgeneeskunde
emeritus hoogleraar verpleeghuisgeneeskunde
Mogelijke belangenverstrengeling: niets aangegeven. Dit artikel is een bewerkte vertaling van: Boorsma M, Frijters DHM, Knol DL, Ribbe ME, Nijpels G, Van Hout HPJ.Effects of multidisciplinary integrated care on quality of care in residential care facilities for elderly people: a cluster randomized trial. CMAJ 2011;183:E724-32 Publicatie gebeurt met toestemming van de uitgever.
Samenvatting
Boorsma M, Frijters DHM, Knol DL, Ribbe ME, Nijpels G, Van Hout HPJ. Multidisciplinair zorgmodel in verzorgingshuizen. Huisarts Wet 2012;55(4):160-5.
Doel
Wij onderzochten de effecten van een multidisciplinair zorgmodel op de kwaliteit van zorg voor en de kwaliteit van leven van bewoners van tien verzorgingshuizen.
Methode
Tien Nederlandse verzorgingshuizen deden mee in een cluster gerandomiseerd en gecontroleerd onderzoek. Van deze huizen deden 340 bewoners mee aan het onderzoek. In vijf huizen paste men het multidisciplinair zorgmodel toe en in de andere vijf kregen de bewoners de gebruikelijke zorg. Het multidisciplinaire zorgmodel bestond uit een multidimensionele geriatrische beoordeling met behulp van de internetapplicatie van het Resident Assessment Instrument (RAIview) door getrainde verzorgenden. Op basis van de uitkomsten daarvan leerden de verzorgenden een individueel zorgplan op te stellen. De verzorgende besprak dit zorgplan met de huisarts en de bewoner en/of familie. De bewoners en/of familieleden gaven aan welke zorgplanacties voor hen belangrijk waren, waarna de verzorgende deze acties uitvoerde. Voor bewoners met een complexe zorgvraag hielden de verzorgende, de huisarts, de specialist ouderengeneeskunde en de psycholoog tweemaal per jaar een multidisciplinair overleg. Zo nodig konden ze de specialist ouderengeneeskunde consulteren. We hebben de kwaliteit van zorg gemeten aan de hand van 32 kwaliteitsindicatoren en hun somscore.
Resultaten
Vergeleken met de controlehuizen hadden de interventiehuizen een significant gunstiger score op 11 van de 32 kwaliteitsindicatoren en de somscore (gemiddeld verschil −6,7, p=0,009; Cohen's d-effectgrootte 0,72). De indicatoren richtten zich zowel op het functioneren van de bewoner–bijvoorbeeld communicatie, delier, gedrag, incontinentie, pijn–als op het zorgproces, zoals gebruik van antipsychotica.
Conclusie
De kwaliteit van zorg voor verzorgingshuisbewoners kan verbeteren door toepassing van het multidisciplinaire zorgmodel.