01-06-2014 | Review Article E-Learning | Uitgave 6/2014 Open Access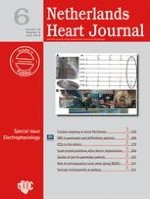 MRI and cardiac implantable electronic devices; current status and required safety conditions
Tijdschrift:
Auteurs:

A. W. M. van der Graaf, P. Bhagirath, M. J. W. Götte
Belangrijke opmerkingen
The questions can be answered after the article has been published in print. You have to log in to:
www.​cvoi.​nl
.
Abstract
Magnetic resonance imaging (MRI) has evolved into an essential diagnostic modality for the evaluation of all patient categories. This gain in popularity coincided with an increase in the number of implanted cardiac implantable electronic devices (CIEDs). Therefore, questions arose with regard to the MRI compatibility of these devices. Various investigators have reported the harmless performance of MRI in patients with conventional (non-MRI conditional) devices. The recently published European Society of Cardiology (ESC) guidelines on cardiac pacing and cardiac resynchronisation therapy (CRT) indicate that MRI can be safely performed in patients with an implanted pacemaker or ICD (MRI conditional or not), as long as strict safety conditions are met. This is a major modification of the former general opinion that patients with a pacemaker or ICD were not eligible to undergo MRI. This review paper attempts to elucidate the current situation for practising cardiologists by providing a clear overview of the potential life-threatening interactions and discuss safety measures to be taken prior to and during scanning. An overview of all available MRI conditional devices and their individual restrictions is given. In addition, an up-to-date safety protocol is provided that can be used to ensure patient safety before, during and after the scan.
•
Historically, MRI examination of patients with a CIED has been considered hazardous.
•
Ongoing advances in technology and increasing usage of MRI in clinical practice have led to the introduction of MRI conditional CIEDs and to more lenient regulations on the examination of patients with non-conditional CIEDs.
•
MRI investigations can be performed safely in selected patients when adhering to a standardised up-to-date safety protocol.