01-12-2017 | Review | Uitgave 1/2017 Open Access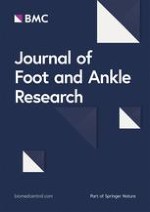 Moisturisers for the treatment of foot xerosis: a systematic review
Tijdschrift:
Auteurs:

Justin Parker, Rolf Scharfbillig, Sara Jones
Abstract
Background
Xerosis, literally dryness of the skin, of the foot is a common condition encountered clinically, which can lead to discomfort and predisposition to infection. Currently, there are no evidence-based recommendations on which moisturiser formulations best alleviate xerotic symptoms. The aim of this review was to guide clinical practice in the treatment of primary and diabetes related foot xerosis, by identifying from the existing literature the most effective ingredient or formulation of topical treatments for symptoms of primary foot xerosis in the general population.
Methods
A systematic review of published experimental trials was undertaken. Only studies pertaining to primary xerosis, classified within levels II – IV of the NHRMC hierarchy were reviewed. EMBASE, AMED, Cochrane, MEDLINE, CINAHL, Ageline and SCOPUS were searched using relevant search terms and keywords and pearling of reference lists was undertaken. Studies were evaluated for methodological quality using a critical appraisal tool. Individual active ingredients were identified from all studies, along with observed reported outcomes. A narrative synthesis was then conducted.
Results
A total of 22 experimental studies were included, from which 12 different active ingredients were identified. Study literature consisted of mainly comparative studies against other active interventions or controls, or pre-post-tests and was of a poor-to-moderate methodological quality as assessed by the Epidemiological Appraisal Instrument. Urea was the most researched active ingredient (14 studies), with ammonium lactate being next (7 studies).
Conclusions
No conclusive recommendations were possible due to wide variation in study quality, methodologies and outcome measures. A synthesis of available literature suggests that treatments containing urea as a primary active ingredient have been the most researched. The poor quality of literature generally, however, precludes recommendation of any active ingredient over another.