16-02-2017 | Uitgave 1/2017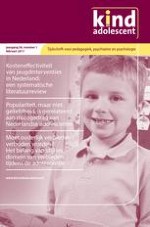 Moet ouderlijk verbieden verboden worden?
Het belang van stijl en domein van verbieden tijdens de adolescentie
Tijdschrift:
Auteurs:

Prof. dr. Maarten Vansteenkiste, Dr. Dorien Wuyts, Prof. dr. Bart Soenens, Dr. Stijn Van Petegem
Samenvatting
Ouders van adolescenten voeren talrijke verboden in bij de opvoeding om te vermijden dat hun kinderen ongewenst, en daarom verboden, gedrag vertonen. Maar is verbieden wel een effectieve strategie? Op basis van de Zelf-Determinatie Theorie en de Sociale Domein Theorie wordt geargumenteerd dat het effect van verbieden afhankelijk is van de wijze waarop (d.w.z. autonomieondersteunend of controlerend) en het domein waarbinnen (d.w.z. moreel, prudentieel, conventioneel of persoonlijk) ouders een verbod uitvaardigen en handhaven. Recent onderzoek bij adolescenten toont het belang aan van zowel ouderlijke stijl als het sociale domein voor de effectiviteit van verbieden. Er worden concrete suggesties gedaan waarmee ouders rekening kunnen houden als ze een verbod wensen uit te vaardigen en te handhaven.