31-10-2018 | ORIGINAL PAPER | Uitgave 5/2019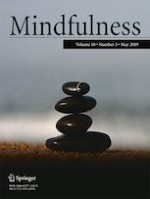 Mobile Mindfulness Meditation: a Randomised Controlled Trial of the Effect of Two Popular Apps on Mental Health
Tijdschrift:
Auteurs:

Jayde A. M. Flett, Harlene Hayne, Benjamin C. Riordan, Laura M. Thompson, Tamlin S. Conner
Belangrijke opmerkingen
Electronic supplementary material
Abstract
We present the results of a pre-registered randomised controlled trial (RCT) that tested whether two smartphone-based mindfulness meditation applications (apps) lead to improvements in mental health. University students (
n
 = 208, aged 18 to 49) were randomly assigned to use one of the three apps: Headspace, Smiling Mind, or Evernote (control group). Participants were instructed to use their assigned app for 10 min each day for 10 days, after which they received an extended 30 days' access to continue practicing at their discretion. Participants completed measures of depressive symptoms, anxiety, stress, college adjustment, flourishing, resilience, and mindfulness at baseline, after the 10-day intervention, and after the 30-day continued access period. App usage was measured by self-report. Mindfulness app usage was high during the 10-day period (used on 8 of 10 days), but low during the 30-day extended use period (less than 20% used the app 2+ times per week). Mindfulness app users showed significant improvements in depressive symptoms, college adjustment, resilience (Smiling Mind only), and mindfulness (Headspace only) from baseline to the end of 10 days relative to control participants. Participants who continued to use the app frequently were more likely to maintain improvements in mental health, e.g. in depressive symptoms and resilience (Headspace only), until the end of the 30-day period. Thus, brief mobile mindfulness meditation practice can improve some aspects of negative mental health in the short term and may strengthen positive mental health when used regularly. Further research is required to examine the long-term effects of these apps.