01-03-2011 | Uitgave 2/2011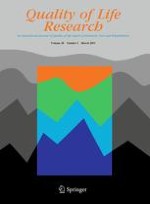 Missing data methods for dealing with missing items in quality of life questionnaires. A comparison by simulation of personal mean score, full information maximum likelihood, multiple imputation, and hot deck techniques applied to the SF-36 in the French 2003 decennial health survey
Tijdschrift:
Auteurs:

Hugo Peyre, Alain Leplège, Joël Coste
Abstract
Purpose
Missing items are common in quality of life (QoL) questionnaires and present a challenge for research in this field. It remains unclear which of the various methods proposed to deal with missing data performs best in this context. We compared personal mean score, full information maximum likelihood, multiple imputation, and hot deck techniques using various realistic simulation scenarios of item missingness in QoL questionnaires constructed within the framework of classical test theory.
Methods
Samples of 300 and 1,000 subjects were randomly drawn from the 2003 INSEE Decennial Health Survey (of 23,018 subjects representative of the French population and having completed the SF-36) and various patterns of missing data were generated according to three different item non-response rates (3, 6, and 9%) and three types of missing data (Little and Rubin's "missing completely at random," "missing at random," and "missing not at random"). The missing data methods were evaluated in terms of accuracy and precision for the analysis of one descriptive and one association parameter for three different scales of the SF-36.
Results
For all item non-response rates and types of missing data, multiple imputation and full information maximum likelihood appeared superior to the personal mean score and especially to hot deck in terms of accuracy and precision; however, the use of personal mean score was associated with insignificant bias (relative bias <2%) in all studied situations.
Conclusions
Whereas multiple imputation and full information maximum likelihood are confirmed as reference methods, the personal mean score appears nonetheless appropriate for dealing with items missing from completed SF-36 questionnaires in most situations of routine use. These results can reasonably be extended to other questionnaires constructed according to classical test theory.