01-03-2010 | Uitgave 1/2010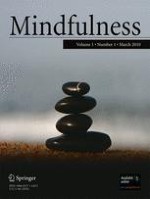 Mindfulness in Forensic Mental Health: Does It Have a Role?
Tijdschrift:
Auteurs:

Kevin Howells, Allison Tennant, Andrew Day, Robert Elmer
Abstract
Treatment and rehabilitation in forensic settings have been largely based on cognitive behavioural models and therapies. In the past decade, "third wave" approaches have developed in cognitive behavioural therapy, strongly influenced by spiritual and contemplative traditions such as Buddhism. Mindfulness is the most analysed and researched of such approaches. In this paper, we ask whether mindfulness is relevant to therapeutic work with offenders in forensic mental health and criminal justice services. We review the known criminogenic and other needs of offender groups and discuss whether the psychological processes affected by mindfulness are relevant to reducing risk, alleviating distress and facilitating coping. We conclude that they are. Finally, we address some of the problems that may arise in implementing mindfulness interventions in forensic settings.