28-06-2018 | REVIEW | Uitgave 3/2019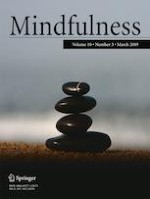 Mindfulness for the Mental Health and Well-Being of Post-Secondary Students: A Systematic Review and Meta-Analysis
Tijdschrift:
Auteurs:

Jillian E. Halladay, Jamie L. Dawdy, Isabella F. McNamara, Allison J. Chen, Irene Vitoroulis, Natalia McInnes, Catharine Munn
Belangrijke opmerkingen
Electronic supplementary material
Abstract
High levels of distress in post-secondary students, alongside the real or perceived barriers to accessing services, highlight the need for evidence-based, accessible, and brief interventions for students such as mindfulness-based interventions (MBIs). This systematic review and meta-analysis seeks to determine the effectiveness of MBIs for mental health outcomes in post-secondary students. We searched OVID MEDLINE In-Process, EMBASE, CENTRAL, CINAHL, PsychInfo, World Health Organization International Clinical Trials Registry Platform, Clinical
Trials.​gov
, Google Scholar, Proquest Dissertations, and OpenGrey. When possible, data were pooled using a random-effects model. Effect estimates were reported as standardized mean differences (SMDs) and then back-transformed into common scales of measurement. This review includes 41 randomized controlled trials reported in 49 studies. When comparing to a passive control, MBIs appear to reduce symptoms of depression [SMD − 0.49 (95% CI − 0.68, − 0.30)], anxiety [SMD − 0.53 (95% CI − 0.78, − 0.29)], and perceived stress [SMD -0.39 (95% CI -0.50, -0.27)] post-intervention (low-quality evidence). These findings were similar for shorter compared to longer interventions, although mindfulness-based cognitive therapy appeared to be the most effective for depression and anxiety. This review found no differential effects of MBIs compared to active comparators for depressive symptoms, anxiety symptoms, or perceived stress (low-quality evidence). Overall, MBIs of at least 2 weeks in duration appear to be a better alternative than no intervention for students with symptoms of depression, anxiety, and perceived stress.