11-01-2016 | ORIGINAL PAPER | Uitgave 1/2016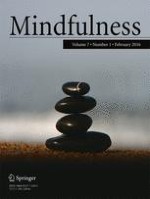 Mindfulness Enhances Use of Secondary Control Strategies in High School Students at Risk for Mental Health Challenges
Tijdschrift:
Auteurs:

Karen Milligan, Alexandra Irwin, Michelle Wolfe-Miscio, Lisa Hamilton, Linda Mintz, Marg Cox, Martin Gage, Shelley Woon, Marjory Phillips
Abstract
Adolescence is a developmental period marked by considerable biological, social, and psychological changes, with rates of self-reported stress on the rise mirroring those of adults. Mindfulness interventions are increasingly being implemented in high schools to improve students' stress management and psychosocial outcomes. Despite the well-researched role of primary and secondary control strategies in the management of adolescent stress, the impact of mindfulness on these attributions has not been examined. The current study addressed this gap in the extant literature. A mindfulness-based martial arts program was delivered to 17 high school students at risk for self-regulation challenges. Measures of primary and secondary control and cognitive errors were completed at pre- and post-treatment and compared to a waitlist control (
n
 = 18). Findings suggested that students in the mindfulness program showed significant improvements in secondary control and reductions in cognitive errors from pre- to post-treatment compared to the waitlist control. No significant group by time changes were found for primary control. Findings are discussed in relation to changes in control-related attributions associated with cognitive behavioral therapy, with specific consideration of possible mechanisms by which mindfulness may improve secondary control and decrease cognitive errors. Directions for future research are discussed.