Gepubliceerd in: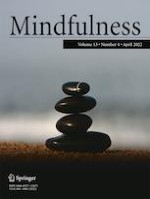 18-03-2022 | ORIGINAL PAPER
Mindfulness-Based Stress Reduction Intervention and Emotional Recovery in Borderline Personality Features: Evidence from Psychophysiological Assessment
Gepubliceerd in: Mindfulness | Uitgave 4/2022
Log in om toegang te krijgen
Abstract
Objectives
Borderline personality disorder (BPD) is a severe mental disorder characterized by difficulty in emotion regulation and interpersonal relationships. Many researchers have focused on high baseline emotional intensity and emotional reactivity, but very little research has examined the difficulty of recovery to baseline in patients with BPD. This study focused on emotional recovery after Mindfulness-Based Stress Reduction (MBSR) intervention on psychophysiological indexes in individuals with BPD features.
Methods
In all, 179 participants were recruited and invited to complete the questionnaire. Based on the cutoff scores of the Borderline Features Scale of the Personality Assessment Inventory (PAI-BOR), 32 participants with BPD features and 32 healthy controls (HC) were invited to participate in the psychophysiological studies. In the second phase, 16 of the 32 participants with BPD features were included in the MBSR intervention, and the other 16 were included in the uninvolved group.
Results
There were significant differences between the BPD-features and HC groups on all the self-report scales. The individuals with BPD features experienced more difficulty in recovering from anger, sadness, and fear emotions, according to psychophysiological indicators of the parasympathetic nervous system (PNS). MBSR intervention was effective in improving emotion regulation, the traits of mindfulness, depression, and withdrawal of the PNS in the BPD-features group. During the recovery periods, the activities of the respiratory sinus arrhythmia (RSA) and high frequency of heart rate variability (HRV-HF) increased in the participants with BPD features after MBSR intervention.
Conclusions
The present results are in line with the polyvagal theory. MBSR intervention may provide paths for gaining control over top-down influences on the PNS via skills of observation and acceptance to avoid the loop of rumination and associated physiological arousal, which is thought to prevent efficient emotional recovery from stressful emotional experiences.