Gepubliceerd in: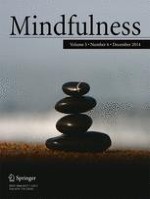 01-12-2014 | ORIGINAL PAPER
Mindfulness-Based Positive Behavior Support (MBPBS) for Mothers of Adolescents with Autism Spectrum Disorder: Effects on Adolescents' Behavior and Parental Stress
Gepubliceerd in: Mindfulness | Uitgave 6/2014
Log in om toegang te krijgen
Abstract
Some parents have to deal with the challenging behaviors of their children with autism spectrum disorder (ASD), including aggressive and destructive behaviors. While pharmacological and behavioral interventions have been the treatments of choice, sometimes the pharmacological treatments are not very effective or the behavioral interventions are so labor intensive that parents fail to implement them consistently, thus leading to treatment failure and parental stress. In this proof-of-concept study, we assessed the effects of providing mindfulness-based positive behavior support (MBPBS) training to three mothers on the challenging and compliance behaviors of their adolescents with ASD. The MBPBS program included a series of meditations aimed at personal transformation during an 8-week program. The training in mindfulness-based practices was paired with applications to their interactions with their adolescent children using a positive behavior support model, whereby the mothers learned how to apply behavioral contingencies with intuitive awareness. Results showed that the adolescents' challenging behaviors decreased and compliance behaviors increased commensurate with the mothers' training in MBPBS. In addition, statistically significant reductions in the mothers' stress levels were correlated with the MBPBS training. These findings provide initial support for MBPBS in assisting parents to effectively manage the challenging behaviors of their children with ASD and in increasing their positive social interactions with them, but without raising their own stress levels.