28-03-2019 | ORIGINAL PAPER | Uitgave 7/2019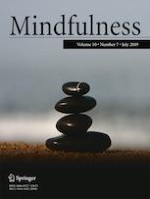 Mindfulness-Based Intervention for Educators: Effects of a School-Based Cluster Randomized Controlled Study
Tijdschrift:
Auteurs:

Yoon-Suk Hwang, Harvey Goldstein, Oleg N. Medvedev, Nirbhay N. Singh, Jae-Eun Noh, Kirstine Hand
Belangrijke opmerkingen
Publisher's Note
Springer Nature remains neutral with regard to jurisdictional claims in published maps and institutional affiliations.
Abstract
Objectives
The present study investigates the effectiveness of an 8-week mindfulness-based intervention designed to improve educator wellbeing and implemented concurrently in multiple school sites.
Methods
Using a cluster (school) randomized controlled design, 185 educators working in 20 Australian schools were randomized to an intervention group (10 schools, number = 85, mean age = 42.34 years) or a control group (10 schools, number = 100, mean age = 43.7 years). Multiple regression analysis was performed to examine effects of intervention on wellbeing and teaching-related outcomes and students' sense of connectedness to teachers measured post intervention after controlling for the baseline.
Results
The intervention predicted lower levels of perceived stress (
β
 = − 0.196,
p
 < 0.01, 95% CI [− 4.00, − 0.92]) and sleep difficulty (
β
 = − 0.175,
p
 < 0.05, 95% CI [− 7.54, − 0.46]) and higher levels of mindfulness (
β
 = 0.252,
p
 < 0.001, 95% CI [2.60, 6.12]), self-compassion (
β
 = 0.207,
p
 < 0.001, 95% CI [0.14, 0.43]) and cognitive reappraisal in emotion regulation (
β
 = 0.152,
p
 < 0.05, 95% CI [0.19, 4.03]) at immediate post-intervention, with medium to large effect sizes, after controlling for effects of corresponding variables at baseline. These effects largely remained significant at 6-week post-intervention. Improved educator wellbeing did not accompany improvements in teaching but students' sense of connectedness to teachers.
Conclusions
The findings suggest that mindfulness-based interventions may contribute to the overall educator wellbeing and this may increase students' sense of connectedness to teachers without themselves undergoing any intervention.