23-10-2017 | ORIGINAL PAPER | Uitgave 4/2018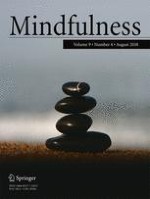 Mindfulness-Based Cognitive Therapy Enhances Emotional Resiliency in Children with Divorced Parents
Tijdschrift:
Auteurs:

Nasrin Esmaeilian, Mohsen Dehghani, Zohre Dehghani, Jennifer Lee
Abstract
The present study examines the hypotheses that children of divorce who participate in a 12-week mindfulness-training program (Mindfulness-Based Cognitive Therapy for Children, MBCT-C) would show greater reductions in depression, anxiety, and anger symptoms and would demonstrate enhanced emotional resiliency. This study utilized a semi-experimental prospective design with pre-, post-, and follow-up measures and a no-treatment control group. A sample of 83 children (ages 10 to 13) and living with a divorced parent were collected from six public schools in Tehran, Iran. The total sample, consisting of 33 boys and 50 girls, was randomly assigned to two groups: an experimental group (
n
= 42, 16 boys and 26 girls) and a no-treatment control group (
n
= 41, 17 boys and 24 girls). The experimental group received twelve 90-min sessions of MBCT-C, which was translated into Persian with minor cultural adaptations. All participants completed measures including the State-Trait Anxiety Inventory for Children (STAIC), State-Trait Anger Expression Inventory-2 (STAXI-2), Children's Depression Inventory (CDI), and Child and Adolescent Mindfulness Measure (CAMM) at pre-test, post-test, and at 2-month follow-up. At the end of intervention, the experimental group showed significantly fewer symptoms of depression, trait anxiety, state anxiety, trait anger, and state anger in comparison with the control group. The intervention group also demonstrated an increase in emotional resiliency and significant enhancements in acceptance and mindfulness. The results provide support that MBCT-C can be an effective intervention to improve the emotional resiliency of children of divorce.