04-07-2017 | ORIGINAL PAPER | Uitgave 1/2018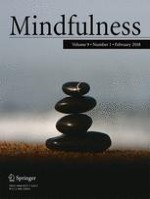 Mindfulness as an Ethical Ideal in the
Bhagavadgītā
Tijdschrift:
Auteur:

Geetesh Nirban
Abstract
The
Bhagavadgītā
(
BhG
) is a part of the ancient Hindu epic
Mahābhārata
. Being a quintessence of the Hindu religious tradition, philosophy and culture, it has exalting ethical significance for human life. As a prelude to the battle of Kurukṣetra, it is a colloquy between Kṛṣṇa and Arjuna, when Arjuna is disconsolate, distressed, confused and unwilling to wage a war due to emotional and moral dilemma. This paper suggests that Arjuna's mental condition reflects psychological chaos on account of conflicting human emotions and Kṛṣṇa's effort consists of arousing the spirit of mindfulness in Arjuna by encouraging him to focus on awareness of the present moment while befriending the mind instead of becoming a slave of it. Viewing
BhG
through the lens of mindfulness, this paper addresses and analyses the ideal of
sthithaprajña
(stable intellect, in
BhG
) and draws its parallel with the concept of
sati
(mindfulness in Buddhism) by elaborating how
BhG
emphasises controlling the mind by rising above the fetters of three
guṇa
-s (
sattva
,
rajas
and
tamas—
the qualities). Through an exposition of
Niṣkāma karma
(detached or disinterested action), the paper projects how the synthesis of the path of
jñāna
(knowledge) with
karma
(action/duty) and
bhakti
(devotion) actually paves the way for mindfulness as an important ethical value for individual and social well-being. It further draws attention to the point that
BhG
does not endorse reclusive or indulgent methods but lays emphasis on selfless cultivation of mindfulness as an ethical ideal.