01-06-2013 | ORIGINAL PAPER | Uitgave 2/2013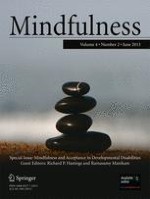 Mindfully Valuing People Now: An Evaluation of Introduction to Mindfulness Workshops for People with Intellectual Disabilities
Tijdschrift:
Auteurs:

Melanie J. Chapman, Duncan Mitchell
Abstract
There is a lack of research exploring the use of mindfulness groups for people with intellectual and developmental disabilities in a community setting. This paper explores the experiences of people with intellectual disabilities and carers who participated in
Introduction to Mindfulness
workshops. The mindfulness workshops consisted of an introduction to mindfulness and a body scan meditation. Participants were given a leaflet about mindfulness and an audio CD of mindfulness exercises. A questionnaire survey was conducted of people who attended the mindfulness workshops and qualitative interviews were carried out with six people with intellectual disabilities (three of whom were supported by paid or family carers). Feedback on the workshops was generally positive. Workshop participants valued the opportunity to talk to other people about their experiences and found the workshops, and in particular the body scan, very relaxing. Three of the people with intellectual disabilities who were interviewed had listened to the audio recording since the workshops and two of these had found it useful in aiding them to cope with phobias, stress and discrimination. Participants wanted further mindfulness sessions and felt that other people with intellectual disabilities could benefit from mindfulness training. The interviews revealed that people with intellectual disabilities may have very stressful lives. Mindfulness could be a useful way of helping people to manage such stress. The mindfulness workshops were clearly acceptable to people with intellectual disabilities, and further work is needed to develop and evaluate a group mindfulness program that is accessible to people with intellectual disabilities.