01-06-2010 | Original Paper | Uitgave 2/2010 Open Access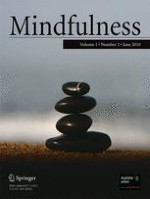 Mindful Parenting in Mental Health Care
Tijdschrift:
Auteurs:

Susan M. Bögels, Annukka Lehtonen, Kathleen Restifo
Introduction
Mindfulness is a form of meditation based on the Buddhist tradition. Over the last two decades, mindfulness-based interventions have been used to successfully treat a multitude of mental health problems. Bringing mindfulness into parenting ("mindful parenting") is one of the newer applications of mindfulness in mental health contexts. Mindful parenting has been defined by Kabat-Zinn and Kabat-Zinn (
1997
) as: "paying attention to your child and your parenting in a particular way: intentionally, here and now, and non-judgementally". Several papers have addressed the role of mindful parenting in mental health problem prevention and treatment contexts on a theoretical, descriptive practical, and/or empirical outcome level (e.g., Altmaier and Maloney
2007
; Bögels et al.
2008
; Dumas
2005
; Duncan et al.
2009
; Sawyer
2007
; Singh et al.
2007
; Wahler et al.
2008
). However, less attention has been paid to the underlying mechanisms of change, particularly in the context of mental health problems in parents and/or children. Our goal is to review the mindful parenting literature from the perspective of issues involved in why mindful parenting may work in the context of child and parent mental health problems. Before discussing these issues, we first review research into the effects of mindfulness on attention, in general. And before that, we will first shortly address the effects of mindfulness-based treatment approaches to adult mental health problems. We conclude the paper with directions of research into the effectiveness of mindful parenting in general and into the issues involved in change through mindful parenting in particular.
How Has Mindfulness Been Applied in Therapies?
Kabat-Zinn (
1990
) developed the mindfulness-based stress reduction (MBSR) program for trying to help chronically ill people to cope with their illness. MBSR has been helpful for a variety of physical and psychological conditions. Grossman et al. (
2004
) did a meta-analysis on the (mental) health benefits of MBSR programs and consistently found respectable effect sizes for MBSR interventions. This was also the case for studies that included control treatments, which would suggest a benefit specific for mindfulness training. Similar findings were reported by Baer (
2003
).
Mindfulness meditation is the basis of mindfulness-based cognitive therapy (MBCT), a treatment approach developed specifically for depressed patients (Segal et al.
2002
). MBCT targets the patterns of thinking activated by dysphoria: the association between low mood and negative, repetitive thinking that is characteristic of major depression. This kind of thinking is still assumed to be typical for patients recovered from depression, who can be vulnerable to subsequent periods of low mood, as this may re-activate the negative cognitions. The aim of the intervention is to enable participants to decenter or take distance from their negative thinking and therefore interrupt the cycle of negative, repetitive thoughts before they escalate into full-blown depressive episode again.
Several studies have demonstrated the effectiveness of the MBCT program in decreasing the likelihood of another depressive episode among patients with more than three episodes of depression (e.g., Ma and Teasdale
2004
; Teasdale et al.
2001
). Note that ruminative thinking has also been found characteristic for many other mental disorders, such as anxiety and eating disorders, and thus, mindfulness training could be beneficial for those disorders as well. In line, mindfulness-based approaches have been found effective in mental disorders in which rumination is a central feature, such as generalized anxiety disorder (Roemer et al.
2008
), social anxiety disorder (Bögels et al.
2006
), and eating disorders (Kristeller et al.
2006
). In addition to the MBSR and the MBCT, other empirically supported intervention programs have included mindfulness training as one of the components involved [dialectical behavior therapy, Linehan (
1993
) and acceptance and commitment therapy, Hayes et al. (
1999
)].
Attention and Mindfulness
Before understanding possible working mechanisms of mindfulness for improving parenting in mental health contexts, we focus on understanding change through mindfulness in general. Attentional processes may be one of the key mechanisms underlying change in mindfulness. Bishop (
2002
) pointed out that the concepts involved in mindfulness—being present in the moment, focussing on the reality and accepting it for what it is—all involve different aspects of attention. This is consistent with the argument that, in general, meditation modifies attention, as highlighted by for example Valentine and Sweet (
1999
), Brown and Ryan (
2003
) and Sethi (
1989
), and by Cahn and Polich (
2006
) in the context of different brain imaging studies. However, despite the general connection that has been drawn between attention and meditation, there has not been much research investigating the specific ways in which mindfulness meditation affects attention. It is not possible to provide a comprehensive overview of all the available studies in this paper, but we will mention a few studies that demonstrate the role of attention in mindfulness.
Mindfulness has been shown to improve executive attention in general. Using the Attention Network Test, which requires participants to respond to an arrow target, flanked by distractors that point either to the same or different direction as the arrow, Jha et al. (
2007
) found improvements in participants' performance depending on their meditation experience. The results suggested that, to begin with at baseline, participants with prior experience in meditation had better conflict monitoring skills (ability to prioritize between conflicting responses and tasks) than participants with no experience and that taking part in the MBSR course improved orienting skills. Jha et al. (
2007
) argued that previous or newly gained meditation experience improves voluntary top-down attention control. Tang et al. (
2007
) had an experimental group do 5 days of integrative body–mind training (including mindfulness meditation as one component) while a control group was assigned to relaxation training. Again, the Attention Network Test was used to measure attention abilities before and after training. Like Jha et al. (
2007
), Tang et al. found that the group trained in meditation did better in conflict monitoring after training, while there was no effect on the control group who received relaxation training. However, the training had no effect on orienting or alerting skills, and Tang et al. (
2007
) suggested that short-term meditation practice improves executive attention in particular.
The effect of mindfulness training on participants' performance in attention interference tasks has also been examined. Ortner et al. (
2007
) tested participants who differed in the length of their meditation experience and found that the longer a participant had been meditating, the less emotional interference they showed. The task required participants to categorize tones while being presented with neutral, pleasant, or unpleasant pictures. The effects of meditation experience emerged both for pleasant and unpleasant pictures. Ortner et al. (
2007
) further showed that when meditation-naïve participants were assigned to mindfulness meditation, relaxation meditation training, or waitlist control, after 7-week training, only the mindfulness meditation group showed a reduction in emotional interference, that is, they were quicker to disengage their attention from emotional stimuli. Furthermore, the mindfulness group was the only one to report decreased intensity of feelings after seeing the unpleasant pictures. Wenk-Sormaz (
2005
) used the Stroop paradigm and showed that participants in mindfulness sitting meditation group showed less interference in the Stroop task than participants in the control group. Finally, Valentine and Sweet (
1999
) found that both mindfulness and concentrative meditators did better on a sustained attention task than controls, and mindfulness meditators were better than the other groups when the stimuli were unexpected, suggesting that they were less susceptible to the finding that focussed attention is impaired with unexpected stimuli.
The studies discussed above suggest that attention is one of the cognitive processes influenced by mindfulness. In particular, the ability to disengage from unexpected and emotional stimuli and attention conflict monitoring improve as a result of meditation practice. It is important to note that this research is still very much at the beginning stage. The results are often inconclusive because the tasks used to measure attention, the interventions introduced as mindfulness practices, and the groups tested vary from one study to another. The studies have also thus far largely failed to do longer-term follow-up, so it is impossible to know whether the effects on attention are long-lasting or not. Consequently, it is not possible to determine at this point in time how exactly mindfulness affects attention.
Why Try Mindfulness for Improving Parenting?
When considering mindfulness and how it might suit addressing issues central in parenting, in the context of parent and child mental health problems, there are several issues that need to be taken into account. They all involve the role of attention. We hypothesize that mindfulness-based parenting interventions may exert their effects by targeting six domains: (1) parental stress; (2) parental preoccupation resulting from parental and/or child psychopathology; (3) parental executive functioning; (4) repeating dysfunctional own upbringing schemes and habits; (5) self-nourishing attention; and (6) marital functioning and co-parenting. Improvements in these six domains may positively affect the parent–child relationship and parenting skills.
Mindfulness Targeting Parents
Several mindfulness programs have targeted parents specifically, with the assumption that, if the parent becomes more mindful in general, this will improve parenting skills and the parent–child relationship. The specific goals of mindful parenting programs are to facilitate parents to bring non-judgemental, here-and-now attention, and intentionality in parenting. We will review the programs that have been developed in the context of mental health problems, and their results, with a particular focus on the six pathways of change discussed above.
Taken together, this study does not support the efficacy of mindful parenting in recently divorced parents on parental stress and the parent–child relationship. Parents' evaluations, however, showed that they considered the program overall helpful and thought that it positively affected their relationship with their child. A possible explanation for the lack of effectiveness is that the program was relatively short and participants reported difficulties applying and integrating homework practice. As the divorced parents can be assumed to be under high levels of stress, they may have needed more intense in-session and homework practice to be able to reduce their parenting stress. A second, related, explanation concerns the timing of the intervention: perhaps mindfulness is more effective when given before a divorce, or longer after the divorce has taken place, so that parents have more space to work with the mindfulness practice offered. A third explanation concerns the form of the training that focused on mindfulness skills in general, rather than on the application to parenting.
There is also preliminary work in the context of intergenerational transmission of disorder that targets the parent–infant relationship. We are in the final stages of a project that investigates how a specific child-oriented mindfulness intervention, aimed at mothers who suffer from postnatal depression or anxiety disorders, affects mother–child interaction (Stein et al., in progress). The goal of the project was to investigate whether the present-oriented, purposeful attention that mindfulness cultivates would decrease the mothers' negative, preoccupied thinking, and therefore allow the mothers to redirect their attention to their children. Piloting demonstrated that because of the often hectic nature of life with young children, asking postnatal mothers to commit to the amount of time that a typical mindfulness course involves would be too much. Therefore, we developed a 5-min long meditation practice that we asked the mothers to do at home every day for 2 weeks before they visited us in our laboratories.
The participants were randomized to either the mindfulness or the control intervention. The laboratory visit started by the mothers playing with their child, so as to obtain a baseline measure of their interaction. Next, we primed the mother to become preoccupied (by asking them to think about their worries) and then gave them either a mindfulness or a control intervention. Both were 10 min long and were presented through headphones, while a researcher played with the child to keep him/her occupied. Afterwards, the mother and child were asked to play together again, so that we could compare the mother–child interaction after the intervention. The control intervention just asked the mothers to think about their own thoughts. The mindfulness intervention started with a short breathing meditation, which was familiar from the home practice. The rest of the intervention was a mindful meditation focussing on the child, whom the mother could see while listening. The recording asked the mother to pay attention to the texture of the child's hair, the color of their clothes, and so on, as if they saw the child for the very first time. Participants' self-reports have indicated that, on the whole, they found the intervention pleasant, and many have stated that it has been helpful. The results of the effect of the intervention on mother–child interaction are still pending and will allow us to evaluate the effect of the intervention on a more objective measure.
To conclude, several mindful parenting programs have been developed in the mental health or prevention context, either as a stand-alone treatment or in combination with behavior interventions. Most programs focused on parents of children with mental disorders, some on parents with mental disorders, and some on at-risk parents. There is preliminary evidence that mindful parenting programs reduce parental stress and resulting parental reactivity (process 1), reduce aspects of child mental disorder (process 2), and improve marital functioning and co-parenting (process 6). Research, however, is limited to evaluation of pilot studies without control groups other than waitlist control.
Discussion
Mindfulness is an increasingly widely used intervention for different psychological and physiological problems and illnesses. In recent years, there has also been some mindfulness work that has specifically targeted parents. Quite a number of studies suggest that attention is one of the cognitive mechanisms that is affected by mindfulness and that potentially plays a role in the different processes addressed by mindfulness for parents in clinical settings: (1) reducing parental stress; (2) reducing parental preoccupation resulting from parental and/or child psychopathology; (3) improving parental executive functioning in impulsive parents; (4) breaking the cycle of repeating dysfunctional own upbringing schemes and habits; (5) increasing self-nourishing attention; and (6) improving marital functioning and co-parenting.
The results of the studies targeting primarily parents and their parenting skills are, in principle, hopeful, particularly those that demonstrated changes in child symptomatic behavior, especially since mindful parenting does not specifically target problematic child behavior. However, it is important to keep in mind that the children of the parents in the studies had different diagnoses, varied in age, and neither study had a control group. In general, on the basis of the current small-scale studies, it is difficult to point out what the observed effects were due to. Therefore, it would be very important to conduct larger-scale, controlled studies that would have power to detect effects of treatment as well as address mediation mechanisms.
In future, it would be important to systematically investigate the effectiveness of mindfulness programs for different participant groups (with respect to child problems as well as parental problems) as well as testing specific hypotheses about the six mechanisms through which the program might work in clinical settings. This is crucial if we are to achieve a more comprehensive understanding of how and when to apply mindful parenting for parenting issues. This would enable us to make more precise predictions as to which target groups of parents and their children might benefit from mindful parenting and how to best tailor them to suit participants' needs.
Mindfulness may not be the most appropriate approach to all disorders, and although the currently available experiments strongly suggest that attention is implicated, this is still a very vague principle to apply when deciding on treatment approaches. Furthermore, since mindfulness does need to be adapted to suit busy parents' schedules, it would be waste of resources to use mindful parenting with groups that are unlikely to benefit from the treatment or with groups that benefit strongly from existing parent training programs. One example of a group of parents that might particularly benefit from mindful parenting is parents of children with externalizing disorders such as ADHD, who themselves suffer from attention and/or impulsivity problems. These parents are found not to benefit (enough) from behavior parent training programs.
Next steps in mindful parenting research thus include designing studies with larger participant numbers and control groups, and eventually running randomized controlled trials, for example, comparing mindful parenting to behavioral parent training. It is also necessary to investigate whether interventions affect the specific cognitive skills and aspects of behavior that mindfulness would be expected to target, such as different attentional skills. The hypothesis could be tested whether mindful parenting works primarily through changing attentional processes in parents, whereas behavioral parent training works primarily through changing parental behaviors. Also, it would be interesting to examine whether adding mindful parenting to behavioral parent training enhances the effect of the latter and what would be the best order of interventions: starting with mindful parenting, followed by behavioral parent training, starting with behavioral parent training, followed by mindful parenting, or combining both approaches in one parenting program. Finally, it is important to investigate whether the application of mindfulness to parenting is at all needed to achieve the kind of effects that mindful parenting appears to have or that the standard 8-week MBCT or MBSR program in mental health settings has similar effects on parents.
These are just a few questions that are pertinent at this point in time, when interest in mindfulness for parenting issues and children's psychological problems is increasing and we have some, but not enough, evidence that mindfulness might be an effective approach for these groups. The challenge now is to work out in more detail where the benefits lie and how to best tailor mindfulness-based parent programs so that they suit this specific participant group both in the practical and theoretical terms.
Open Access
This article is distributed under the terms of the Creative Commons Attribution Noncommercial License which permits any noncommercial use, distribution, and reproduction in any medium, provided the original author(s) and source are credited.
Open Access
This is an open access article distributed under the terms of the Creative Commons Attribution Noncommercial License (
https://​creativecommons.​org/​licenses/​by-nc/​2.​0
), which permits any noncommercial use, distribution, and reproduction in any medium, provided the original author(s) and source are credited.