Gepubliceerd in: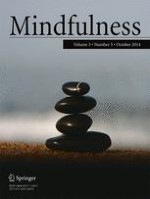 01-10-2014 | ORIGINAL PAPER
Mindful Parenting in Mental Health Care: Effects on Parental and Child Psychopathology, Parental Stress, Parenting, Coparenting, and Marital Functioning
Gepubliceerd in: Mindfulness | Uitgave 5/2014
Log in om toegang te krijgen
Abstract
This study evaluated the acceptability and effects of a Mindful Parenting course in mental health care. Parents (
n
 = 86) referred to secondary mental health care because of their children's and/or their own psychopathology, or parent–child relationship problems, followed a Mindful Parenting course in a group format (10 groups). Assessments took place just before the course (pre-test), immediately after the nine-week course (post-test), and at 8-week follow-up. A waitlist assessment took place only for those parents who had to wait for a course (
n
 = 23). Measures concerned parent report of psychopathology symptoms of their target child, as well as their own psychopathology symptoms, parental stress, parenting behaviors, coparenting, and marital functioning. Only one parent dropped out and parents evaluated the program as valuable and effective in many areas of family functioning. No improvement was reported during waitlist, except for an improvement in parental externalizing symptoms. Improvements after the course occurred in the target child's internalizing and externalizing psychopathology symptoms, parents' own internalizing symptoms and further improvement on their externalizing symptoms. Also, improvements occurred on parental stress, parenting, and coparenting, but not on marital functioning. Improvements were generally maintained at follow-up. In conclusion, the very low dropout rate as well as the positive evaluations, suggest that Mindful Parenting is an acceptable and feasible intervention in mental health care. Mindful Parenting appears a promising new intervention for parents in mental health care, as it seems effective on a broad range of child, parent, and family variables. Studies comparing Mindful Parenting to other effective interventions, such as Parent Management training, are needed to gain more knowledge about its relative and differential effectiveness.