Gepubliceerd in: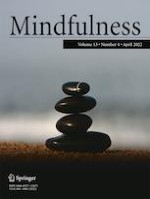 09-03-2022 | ORIGINAL PAPER
Mindful Awareness Promotes Resilience: Buffered Links Among Childhood Sexual Abuse Severity, Goal-Directed Emotion Dysregulation, and Psychopathology
Gepubliceerd in: Mindfulness | Uitgave 4/2022
Log in om toegang te krijgen
Abstract
Objectives
Childhood sexual abuse is linked to long-term consequences, including depression and anxiety in adulthood. Although considerable progress has been made to understand mechanisms that may account for this relation, such as emotion dysregulation, less attention has been given to protective factors that may mitigate it. One such protective factor might be mindful awareness. Those who act with awareness in daily living tend to engage in healthy emotion regulation skills when faced with stressors and experience less depression and anxiety. In the current study, we aimed to replicate the positive associations among childhood sexual abuse severity, emotion dysregulation, and psychopathology across time, and also identify a personal strength—in this case, mindful awareness—that might mitigate these effects.
Methods
Participants were 491 women recruited from the community who completed self-report assessments at three time points over a 32-month period.
Results
A series of moderated mediation models revealed childhood sexual abuse severity predicted later reports of depression and anxiety symptoms through greater emotion dysregulation in the form of difficulties engaging in goal-directed behaviors. As expected, mindful awareness weakened the relation between goal-directed emotion dysregulation and symptoms of depression and anxiety, such that greater levels of mindful awareness fully buffered these effects.
Conclusions
Through a better understanding of natural resiliency processes among survivors, we can ultimately encourage continued examination of what might be effective additions to existing treatments for the mental health consequences of trauma and adversity.