17-03-2020 | Original Article | Uitgave 3/2021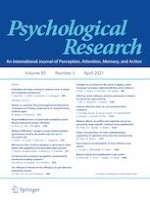 Memory for item–location bindings is enhanced in older adults with appetitive motivationally laden pictures
Tijdschrift:
Auteurs:

Caterina Padulo, Nicola Mammarella, Alfredo Brancucci, Beth Fairfield
Belangrijke opmerkingen
Publisher's Note
Springer Nature remains neutral with regard to jurisdictional claims in published maps and institutional affiliations.
Abstract
Both the selection and consumption of food are biologically necessary for survival. Consequently, individuals may consider food as a primary and biologically relevant stimulus. In addition, recent findings support specific patterns of food preference during the lifespan development. Indeed, the preference for sweet taste largely observed in newborns and children seems to decline in young adults and then re-emerge again in older adults. This motivational preference for sweet food in older adults may be potentially useful in the cognitive domain since many studies have found that motivationally or emotionally laden information is more likely to be detected, stored in memory and retrieved better than neutral information. To address this issue, we designed an item–location binding task with sweet food, savory food and object pictures, and asked young and older adults to maintain information in working memory and respond based on memory for either individual features or feature combination (i.e., identification, location, or combined identification + location information). Results evidenced a significant enhancement of older adults' performance in the binding of motivationally relevant stimuli and their location, evidencing the potential usefulness of motivationally laden stimuli in promoting more effective binding processes and probably, more general working memory processes.