Gepubliceerd in: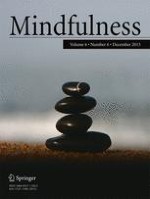 09-05-2015 | ORIGINAL PAPER
Meditation Practice and Self-Reported Mindfulness: a Cross-Sectional Investigation of Meditators and Non-Meditators Using the Comprehensive Inventory of Mindfulness Experiences (CHIME)
Gepubliceerd in: Mindfulness | Uitgave 6/2015
Log in om toegang te krijgen
Abstract
Mindfulness meditation is generally recognized as the fundamental practice for the development of mindfulness. Accordingly, regular meditation practice is thought to lead to a better capacity to maintain mindfulness during everyday life. Most available studies did not measure the individual amount of experience with meditation practice in detail. In the present study, 683 participants from the general population completed a meditation experience questionnaire and the Comprehensive Inventory of Mindfulness Experiences (CHIME), a scale providing a broad multi-dimensional coverage of mindfulness. Of these, 183 reported currently practicing meditation on a regular basis and provided information about time elapsed since initiation of meditation practice, the amount of current practice, and the techniques used. Results provide evidence for the associations between self-reported mindfulness and meditation practice and suggest that mindfulness is particularly associated with continued practice in the present, rather than with accumulated practice over years. Moreover, no differences in the levels of mindfulness between subgroups practicing with different techniques (Zen, Vipassana, and body movement-oriented techniques) could be established, when differences in age and meditation practice were taken into account.