13-04-2018 | REVIEW | Uitgave 1/2019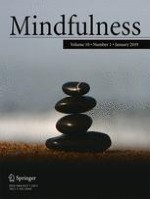 Meditation and Secondary Prevention of Depression and Anxiety in Heart Disease: a Systematic Review
Tijdschrift:
Auteurs:

Angela Rao, Michelle DiGiacomo, Phillip J. Newton, Jane L. Phillips, Louise D. Hickman
Belangrijke opmerkingen
Electronic supplementary material
Abstract
Heart disease is the leading cause of global mortality, accounting for 13.7 million deaths annually. Optimising depression and anxiety symptoms in adults with heart disease is an international priority. Heart disease secondary prevention is best achieved through implementation of sustainable pharmacological and non-pharmacological interventions, including meditation. Meditation is a means of generating self-awareness and has implications for enhanced self-management of depression and anxiety symptoms. This review aims to identify high-level quantitative evidence for meditation interventions designed to improve depression and/or anxiety symptoms among adults with heart disease and ascertain the most important elements of meditation interventions that facilitate positive depression and/or anxiety outcomes. This systematic review and narrative synthesis was completed in accordance with the PRISMA Statement and has adhered to the Cochrane Risk of Bias guideline. Six databases were searched between 1975 and 2017. Statistically significant outcomes were demonstrated in over half (5/9) of phase II meditation studies for depression and/or anxiety and involved 477 participants. Meditation interventions that generated positive outcomes for depression and/or anxiety included elements such as focused attention to body parts (or body scan) (3/4 studies) and/or group meetings (4/5 studies). Meditation is a means of reframing heart disease outpatient services towards an integrated model of care. Future adequately powered phase III studies are needed to confirm which meditation elements are associated with reductions in depression and anxiety; and the differential effects between concentrative and mindfulness-based meditation types among adults with heart disease.