15-11-2019 | Original Article | Uitgave 2/2021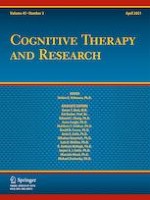 Mediators and Moderators of Homework–Outcome Relations in CBT for Depression: A Study of Engagement, Therapist Skill, and Client Factors
Tijdschrift:
Auteurs:

Rui Ying Yew, Keith S. Dobson, Michael Zyphur, Nikolaos Kazantzis
Belangrijke opmerkingen
Electronic supplementary material
Publisher's Note
Springer Nature remains neutral with regard to jurisdictional claims in published maps and institutional affiliations.
Abstract
Homework assignments are considered crucial to the generalization and maintenance of skills and cognitive reappraisal in cognitive behavior therapy (CBT). The present study examined the relationships among homework engagement (i.e., quantity and quality of adherence, taking into account task difficulties and obstacles), the theoretically meaningful determinants of engagement (i.e., client homework beliefs), therapist competence (i.e., in review, design, and planning of homework), and outcome in CBT for depression. Client factors (i.e., education level, marital status, and baseline depressive symptoms) were also examined as moderators of engagement-outcome relations. It was hypothesized that homework engagement would mediate the relationship between competence at one session and depressive symptoms at the next session. It was further hypothesized that homework beliefs would mediate the competence–engagement relationship. Independent observers assessed homework engagement, beliefs, and therapist competence in 50 client-therapist dyads, representing 233 sessions across five time points (sessions 3, 6, 9, 12, and 15). Cross-lagged panel analysis indicated no lagged competence–outcome effects and pooled multilevel analyses revealed no mediating effects of engagement or beliefs. However, higher client homework beliefs (more positive views) significantly predicted greater homework engagement. No evidence was obtained for hypothesized moderators. The present study is the first to examine specific homework beliefs as determinants of engagement. Findings underscore the importance of beliefs in understanding homework engagement, and provide avenues for future research.