28-04-2016 | Original Article | Uitgave 5/2016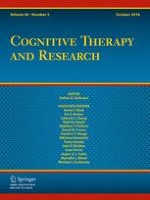 Mediators and Moderators of a School-Based Cognitive-Behavioral Depression Prevention Program
Tijdschrift:
Auteurs:

Mylien T. Duong, Brynn M. Kelly, Wren L. Haaland, Brandon Matsumiya, Stanley J. Huey Jr, Carolyn A. McCarty
Abstract
This study tested potential moderators and mediators of an indicated depression prevention program for middle school students, Positive Thoughts and Actions (PTA). Participants were 120 students randomly assigned to PTA, or a brief, individually administered supportive intervention (Individual Support Program). Youths completed measures of depressive symptoms at baseline, post-intervention, and 12-month follow-up. Hierarchical regression was used to test three moderators—ethnic minority status, gender, and baseline depressive symptoms—and three mediators representing functional outcomes targeted by PTA—parent–child communication, attitude towards school, and health behavior. Ethnic minority status did not moderate PTA effects at post-intervention but did moderate PTA effects at 12-month follow-up. At 12 months, PTA appeared to be more effective for White participants than ethnic minority youth. Follow-up analyses suggested this moderation effect was due to the tendency of ethnic minority youth, especially those with fewer symptoms at baseline, to drop out by 12 months. Neither gender nor baseline depressive symptoms moderated the effects of PTA. Although PTA improved parent-child communication and attitudes toward school, there was no evidence that any of the three functional outcomes measured mediated the impact of PTA on depressive symptoms. Future directions are discussed.
This study is registered on ClinicalTrials.gov as NCT01220635.