11-11-2016 | Empirical Research | Uitgave 2/2017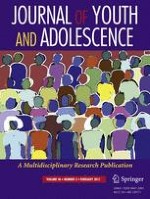 Media as a "Super Peer": How Adolescents Interpret Media Messages Predicts Their Perception of Alcohol and Tobacco Use Norms
Tijdschrift:
Auteurs:

Kristen C. Elmore, Tracy M. Scull, Janis B. Kupersmidt
Abstract
Adolescents' media environment offers information about who uses substances and what happens as a result—how youth interpret these messages likely determines their impact on normative beliefs about alcohol and tobacco use. The Message Interpretation Processing (MIP) theory predicts that substance use norms are influenced by cognitions associated with the interpretation of media messages. This cross-sectional study examined whether high school adolescents' (
n
 = 817, 48 % female, 64 % white) media-related cognitions (i.e., similarity, realism, desirability, identification) were related to their perceptions of substance use norms. Results revealed that adolescents' media-related cognitions explained a significant amount of variance in perceived social approval for and estimated prevalence of peer alcohol and tobacco use, above and beyond previous use and demographic covariates. Compared to prevalence norms, social approval norms were more closely related to adolescents' media-related cognitions. Results suggest that critical thinking about media messages can inhibit normative perceptions that are likely to increase adolescents' interest in alcohol and tobacco use.