01-10-2010 | Original Article | Uitgave 5/2010 Open Access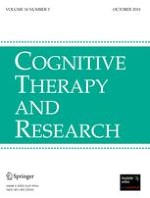 Measuring Negative and Positive Thoughts in Children: An Adaptation of the Children's Automatic Thoughts Scale (CATS)
Tijdschrift:
Auteurs:

Sanne M. Hogendoorn, Lidewij H. Wolters, Leentje Vervoort, Pier J. M. Prins, Frits Boer, Emelie Kooij, Else de Haan
Introduction
While the CATS has a number of advantages over other measures of cognition, it does not assess positive thoughts. The inclusion of positive thoughts in a cognition questionnaire makes it possible to examine theoretical cognitive models like the SOM model, power of nonnegative thinking, and the content-specificity hypothesis. Therefore, to increase the applicability of this questionnaire in research on cognition in children, we decided to extend the CATS with positive self-statements. The resulting measure was named the CATS-Negative/Positive (CATS-N/P). The objective of the present study was to describe the development and psychometric properties of the CATS-N/P in a community sample of children and adolescents.
Our second research question concerned the internal reliability of the scale and the 8-week test–retest reliability. Our third research question focused on the convergent and discriminant validity of the CATS-N/P. We hypothesized that there would be a positive correlation between the negative beliefs factor and the measures for emotional problems and anxiety; and a negative correlation between the measures for emotional problems and anxiety and the positive thoughts scale of the CATS-N/P. Finally, age and sex differences on the CATS-N/P were examined exploratively.
Method
Participants
Participants were a community sample of 554 children (8–11 years,
n
= 183) and adolescents (12–18 years,
n
= 371) with a mean age of 12.55 years. There were 272 boys and 282 girls. Ten different schools were asked to participate in the study, and six schools agreed to cooperate (60%). Schools were public secondary schools and elementary schools in several rural and urban areas of the Netherlands. A total of 681 children and their parents were informed about the study and 569 children and their parents (83.6%) agreed to participate. Of these, twelve children were not present when the questionnaires were administered. Three children were excluded from the analyses because they had too many missing items on the CATS-N/P (i.e., a maximum of two missing items per subscale was allowed and missings were replaced with the subscale mean). Despite repeated reminders, only 402 parents (72.6%) returned the questionnaires.
Socioeconomic status of participants was assessed. Parental educational level was low (29.8%), medium (36.5%), and high (33.7%) for mothers, and low (27.3%), medium (31.2%), and high (41.5%) for fathers. 113 families (28.1%) refused to give information about their income level. Of the other families, most (68.9%) had an income level above the mean (>34,000 EUR), 17.0% had a mean income level (28,500–34,000 EUR), and 14.1% had an income level below the mean (<28,500 EUR).
1
Most children (83.4%) lived in two-parent families. Children represented the main ethnic groups in the Netherlands: Dutch (94.0%), Turkish (2.7%), Moroccan (0.7%), Antillean (1.2%), or different (1.2%). Most parents (89.6%) had the Dutch nationality.
Measures
Development of the CATS-N/P
The original Children's Automatic Thoughts Scale (Schniering and Rapee
2002
) consists of 40 items which represent different negative thoughts (e.g., "Something awful is going to happen" or "Kids will think I'm stupid").
2
Children rate how often they have had each of the 40 thoughts in the past week. The items are scored on a five-point scale from "not at all" (0) to "all the time" (4). Four 10-item subscales (Physical threat, Social threat, Personal failure and Hostility) are calculated by adding item scores. The Total score is derived by adding the four subscale scores. We used the 40-item Dutch CATS, translated by Bodden and Bögels (
2006
), and added ten positive thoughts. Ten items were chosen to be added in order to facilitate the calculation of SOM (ratio) scores in the future (i.e. all subscales have an equal amount of items). We selected the positive items from the Flemish PNG-k (Positieve en Negatieve Gedachten bij kinderen; Bracke and Braet
2000
). In addition to 35 negative items (all from the NASSQ-39; Ronan et al.
1994
), the PNG-k contains 35 positive items which were selected from the NASSQ-39 (Ronan et al.
1994
), the Automatic Thoughts Questionnaire-Positive (ATQ-P; Ingram and Wisnicki
1988
), and other child questionnaires. The PNG-k was validated in a sample of 690 children. All items had high factor loadings and internal reliability was good (Cronbach's α > .91). However, the items from the PNG-k reflect positive and negative affect, including symptoms, as well as cognition. Therefore, we used the highest loading positive items and selected items representing thoughts rather than symptoms. Moreover, positive items which were the opposite of the negative CATS items were selected first. Examples of the positive items are: "Only good things will happen to me", "My future looks bright", and "I enjoy life" (see Table
1
for all items).
3
For the English language version of the CATS-N/P, the positive Flemish items were translated into English in three steps. First, all authors (except EK), who are bilingual and familiar with the topic in the questionnaire, independently translated all ten items from Flemish to English. The translations were compared until we uniformly agreed on the phrasing. Next, a native English speaker, who is an expert in the field of childhood anxiety disorders, reviewed the items and recommended some minor changes. Third, the revised items were reviewed by three other bilingual psychologists, and a back translation was made from English to Dutch (equivalent to Flemish). No more changes were made after this step.
Table 1
Factors, items and factor loadings on the CATS-N/P
Factor

Questionnaire item

Factor loadings

1

2

3

4

5

Physical threat

6

I'm going to have an accident

.57

9

I'm going crazy

.70

12

I'm going to die

.48

15

My mum or dad are going to get hurt

.49

20

I'm scared of losing control

.63

25

I'm going to get hurt

.67

30

Something awful is going to happen

.71

42

I'm scared that somebody might die

.46

46

There is something very wrong with me

.70

49

Something will happen to someone I care about

.59

Social threat

2

Kids will think I'm stupid

.68

8

I'm worried that I'm going to get teased

.65

10

Kids are going to laugh at me

.73

17

I'm going to look silly

.75

23

People are thinking bad things about me

.71

26

I'm afraid of what other kids will think of me

.66

31

I look like an idiot

.75

36

Other kids are making fun of me

.71

39

Everyone is staring at me

.44

41

I'm afraid I will make a fool of myself

.66

Failure

5

I can't do anything right

.62

14

I am worthless

.71

16

Nothing ever works out for me anymore

.64

22

It's my fault that things have gone wrong

.58

29

I've made such a mess of my life

.68

33

I'll never be as good as other people are

.60

35

I am a failure

.76

38

Life is not worth living

.47

43

I will never overcome my problems

.57

48

I hate myself

.73

Hostility

4

I have the right to take revenge on people if they deserve it

.66

7

Other kids are stupid

.46

13

Most people are against me

.65

−.24

18

I won't let anyone get away with picking on me

.74

24

If someone hurts me, I have the right to hurt them back

.68

27

Some people deserve what they get

.71

34

I always get blamed for things that are not my fault

.47

.23

44

People always try to get me into trouble

.53

.22

47

Some people are bad

.56

50

Bad people deserve to get punished

.72

Positive thought

1

I enjoy life

.56

3

I know that everything I do will work out well

.53

11

I don't give up

.51

19

Other people understand me

.69

21

Only good things will happen to me

.52

28

I feel good about myself

.71

32

My future looks bright

.71

37

Everything will turn out well

.62

40

Kids my age like me

.64

45

I feel great

.67
The final items of the CATS-N/P were scored on a five-point scale, ranging from "not at all" (0) to "all the time" (4). Higher scores on the five subscales reflect a higher amount of negative or positive thoughts. The range of each subscale is 0–40. As the Total score of the CATS-N/P represents the extent to which a child has negative thoughts, the positive items are not added to the Total score on the CATS-N/P. Therefore, the range of the Total score is 0–160.
Symptom Questionnaires
Four symptom questionnaires were administered in order to determine anxiety levels and to establish the convergent and discriminant validity of the CATS-N/P.
Data Analysis and Overall Procedure
After parents and children had received written information about the study, informed consent was obtained from all parents and children. In accordance with the participating schools and the Clinical Psychology department Ethics Committee (University of Amsterdam), the majority of parents (70.6%) gave passive consent. Parents completed the SDQ and a demographics questionnaire. The CATS-N/P, STAI(C)-trait, RCADS and CDI were administered to the children in their classroom under supervision by research assistants. It took children about 40 min to complete all questionnaires. A sub sample of 139 children who had given informed consent completed a second CATS-N/P in order to examine test–retest reliability. Due to variability per school in the starting date of the summer vacation, some children completed the second CATS-N/P at school and others completed the questionnaire at home. Although children were reminded twice (in writing and by telephone) to return the questionnaires as soon as possible, there was considerable variation in the return of the retest questionnaire (range 7–21 weeks after the initial administration,
M
= 9.66, SD = 2.36). Therefore, we divided the retest data in two groups based on the retest period median (9 weeks). After the study, participants were informed about the results by an article in the school paper.
Confirmatory factor analysis (CFA) was performed using Amos 16.0 (Arbuckle
2007
). We chose a confirmatory factor analysis over an exploratory analysis, given the strong theoretical assumptions about the factor structure based on earlier studies (Schniering and Rapee
2002
). A confirmatory analysis allows scale items to be forced into certain, pre-determined factors (Brown
2006
). The internal reliability of the CATS-N/P was calculated with Cronbach's alpha and the test–retest reliability with Pearson's
r
. ANOVA's were used to detect age and sex differences in the subscales of the CATS-N/P.
Results
Discussion
In this study we investigated an adapted version of the Children's Automatic Thoughts Scale, the CATS-Negative/Positive (CATS-N/P), in a non-referred community sample. In order to enhance the applicability of the CATS in studying the cognitions of children with different disorders, we added an extra subscale containing positive thoughts. The main research question of the current study was whether the factor structure and the psychometric properties of the new CATS-N/P were satisfactory.
The new positive items showed good internal reliability and high factor loadings. As expected, the Positive thoughts scale correlated negatively with almost all other subscales. However, the Positive thoughts scale was positively correlated with the Hostile thoughts scale. A possible explanation for this finding may be that both types of items share a common feature: assertive/extrovert or externalizing thoughts. Indeed, the higher-order model found in the current study seems to suggest that the CATS-N/P has three different types of items: items reflecting negative, internalizing self-statements (including separate social threat, physical threat, and failure items); items reflecting negative externalizing self-statements (hostility) and items reflecting positive self-statements.
Because some cross-cultural differences were found regarding the overall mean scores and differences between age groups, the generalizability of the CATS and CATS-N/P to other countries and/or cultures is uncertain. Therefore, norm tables from different samples should be interpreted cautiously. Another limitation of this study is that the factor structure and psychometric properties of the measure were not evaluated in a clinical group. Future studies should therefore focus on further establishing the discriminant validity and psychometric properties of the CATS-N/P, for example by comparing non-clinical and clinical groups with different disorders (e.g., anxiety disorders, depression, behavior disorders). Moreover, it would be interesting to examine whether the CATS-N/P can predict treatment change and whether the Positive thoughts subscale can discriminate between clinically anxious and depressed children.
The CATS-N/P is an adapted and innovative version of the CATS designed specifically to measure positive and negative thoughts in children. This was the first study to apply the CATS-N/P in a large community sample in the Netherlands. The psychometric properties of the new measure were found to be good and the added positive items formed a psychometrically sound factor. Therefore, the CATS-N/P can be a valuable tool for the facilitation of research into the role of cognitive factors in the development and maintenance of different childhood disorders. Moreover, the use of the CATS-N/P in a clinical setting might improve the insight of the clinician in the amount of dysfunctional thoughts of a child pre-treatment and whether cognitions change over the course of treatment (especially after cognitive restructuring).
Acknowledgments
We would like to thank all participating schools, children, and parents for their help, as well as the students who helped collect the data: T. Koolstra, M. Oudega, and A. Tillema. We are grateful to D. Bracke, C. Braet, C. Schniering, and R. Rapee for allowing us to use (parts of) their questionnaires; G. de Boo for her suggestions regarding the CFA; F. M. Sauter for reviewing the article and the positive items, and all reviewers for their clear and thoughtful comments.
Open Access
This article is distributed under the terms of the Creative Commons Attribution Noncommercial License which permits any noncommercial use, distribution, and reproduction in any medium, provided the original author(s) and source are credited.
Footnotes
1
Information about mean income level was obtained from Intomart GfK, a Dutch research bureau. While most children in our sample came from two-parent families with high levels of education and high incomes, about 25% of parents did not return the demographic questionnaire. Most of these parents were parents of children attending schools offering vocational education or schools situated in low socio-economic suburbs. These factors are known to be associated with ethnic minorities and/or low educational level and income of families. Consequently, the available sample characteristics may not fully reflect the actual sample characteristics.
2
The original English items are reproduced with permission of the authors (Rapee and Schniering).