Gepubliceerd in: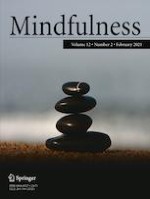 13-01-2020 | ORIGINAL PAPER
Maternal Mindfulness and School-Age Children's Emotion Regulation: Mediation by Positive Parenting Practices and Moderation by Maternal Perceived Life Stress
Gepubliceerd in: Mindfulness | Uitgave 2/2021
Log in om toegang te krijgen
Abstract
Objectives
Maternal disposition and behaviors are critical to children's emotional adjustment, and exploring the differential effects of supportive and unsupportive maternal factors on children's emotion regulation and the underlying mechanisms can provide us with a better understanding of mother-child interactions. This study examined the mediating role of maternal positive parenting practices on the link between maternal mindfulness and children's emotion regulation and whether maternal perceived life stress moderated the proposed links in a sample of Chinese families with school-aged children.
Methods
In all, 1723 biological mothers aged between 26 and 63 years (
M
age
 = 37.96) completed questionnaires assessing maternal mindfulness disposition, perceived life stress, positive parenting practices, and their children's emotion regulation. A moderated mediation analysis was used to delineate the relationships among the study variables.
Results
The results showed that a higher level of maternal perceived life stress weakened the positive links between maternal mindfulness and positive parenting practices and between maternal mindfulness and school-aged children's emotion regulation.
Conclusions
These findings help us better understand the associations between the comparatively understudied maternal supportive/unsupportive factors and school-aged children's emotion regulation in Chinese families.