01-11-2013 | Original Paper | Uitgave 8/2013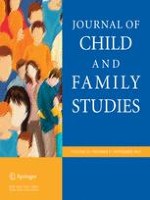 Maternal Guilt and Shame: The Role of Self-discrepancy and Fear of Negative Evaluation
Tijdschrift:
Auteurs:

Miriam Liss, Holly H. Schiffrin, Kathryn M. Rizzo
Abstract
Guilt and shame are emotions commonly associated with motherhood. Self-discrepancy theory proposes that guilt and shame result from perceived discrepancies between one's actual and ideal selves. Fear of negative evaluation by others may enhance the effects of self-discrepancy especially for shame, which involves fear of others' reproach. The purpose of this study was to examine the relationships between self discrepancy, guilt, shame, and fear of negative evaluation in a cross-sectional, self report study of mothers. Mothers of children five and under (
N
= 181) completed an on-line survey measuring guilt, shame, fear of negative evaluation, and maternal self-discrepancies. Guilt and shame were related to maternal self-discrepancy and fear of negative evaluation. In addition, fear of negative evaluation moderated the relationship between maternal self-discrepancy and shame such that mothers who greatly feared negative evaluation had a very strong relationship between these variables. Maternal self-discrepancy and shame were not related among mothers who had low fear of negative evaluation. The results are discussed in terms of the detrimental effects of internalizing idealized standards of perfect motherhood.