11-01-2021 | Original Paper | Uitgave 2/2021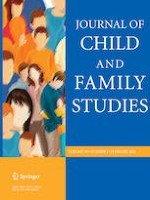 Maternal–Fetal Attachment: Associations with Maternal Sensory Processing, Adult Attachment, Distress and Perinatal Loss
Tijdschrift:
Auteurs:

Grace Branjerdporn, Pamela Meredith, Trish Wilson, Jenny Strong
Belangrijke opmerkingen
Publisher's note
Springer Nature remains neutral with regard to jurisdictional claims in published maps and institutional affiliations.
Abstract
Maternal–fetal attachment (MFA) describes the thoughts, feelings, and behaviors of a pregnant woman toward her unborn baby. With MFA increasingly seen as an important predecessor of future outcomes, understanding the factors associated with MFA may reveal targets for treatment, potentially optimizing outcomes for mothers and infants. The primary aim of this research was to examine associations between MFA and maternal sensory and attachment patterns, when controlling for psychological distress. The secondary aim was to compare MFA and distress for women with and without previous perinatal loss. Pregnant women (
N
 = 108) were recruited from two antenatal clinics at an Australian maternity hospital. During pregnancy, participants completed the Maternal Antenatal Attachment Scale, Adolescent/Adult Sensory Profile, Mental Health Inventory-38, and Attachment Style Questionnaire. Hierarchical linear regression models, controlling for psychological distress as the second step, were performed. Final models revealed that more favorable quality of MFA was associated with lower sensory sensitivity and higher sensory seeking. More time spent in MFA was associated with younger maternal age and higher levels of maternal sensory seeking. Women with previous perinatal loss had more distress but similar levels of MFA compared to women without loss. We provide the first evidence of links between MFA and maternal sensory patterns, and further elucidate links between adult attachment and mental health in women with and without previous perinatal loss. Consideration of maternal sensory patterns, adult attachment, and mental health status antenatally may inform new directions for services seeking to facilitate the relationship between a mother and her unborn baby.