2021 | OriginalPaper | Hoofdstuk
1. Maternal adaptation to pregnancy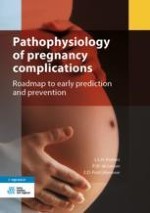 Auteurs: MD, PhD L. L. H. Peeters, MD, PhD P. W. de Leeuw, MD, PhD E. D. Post Uiterweer
Uitgeverij: Bohn Stafleu van Loghum
Abstract
The first chapter of this book describes the most important maternal adaptations to pregnancy. In the following three chapters, that information is used as a reference for the pathophysiology of common pregnancy disorders, that may develop in seemingly healthy women (chap.
2
), in women with a pre-existent chronic disorder that predisposes to these pregnancy complications (chap.
3
) and in women with a preexistent chronic disorder that does not directly predispose to these pregnancy complications (chap.
4
). Finally, chapter
5
discusses how the information on pathophysiology of pregnancy complications can be translated into strategies that enable early detection and/or prevention of these complications.