27-07-2019 | Uitgave 12/2019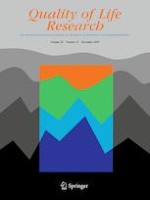 Mapping the Shah-modified Barthel Index to the Health Utility Index Mark III by the Mean Rank Method
Tijdschrift:
Auteurs:

Yin Bun Cheung, Hui Xing Tan, Nan Luo, Hwee Lin Wee, Gerald C. H. Koh
Belangrijke opmerkingen
Electronic supplementary material
Publisher's Note
Springer Nature remains neutral with regard to jurisdictional claims in published maps and institutional affiliations.
Abstract
Purpose
To map the Shah-modified Barthel Index (SBI) to the Health Utility Index Mark III (HUI-3) in stroke patients, and to compare the performance of a recently developed method called the Mean Rank Method (MRM) against a popular method, the Ordinary Least Squares (OLS) method.
Methods
A cohort of 473 patients who had their first clinical stroke diagnosis and hospital admission and were assessed using the SBI and HUI-3 at 3 months and/or 12 months post-admission. Observations were split to form a training dataset (
N
 = 473) and a validation dataset (
N
 = 245).
Results
In the training dataset, the MRM using SBI total score as the predictor produced a mapped utility distribution that closely resembled the observed utility distribution. It had almost no shrinkage of the standard deviation (
P
 = 0.542), whereas the OLS using SBI total score and SBI item scores under-estimated the standard deviation by 28% and 26%, respectively (each
P
 < 0.001). The MRM mapping gave better fit in terms of smaller mean absolute error and larger intra-class correlation than the two versions of OLS mapping, whereas the OLS gave smaller mean-squared errors than the MRM. Multivariate regression analysis showed that the use of OLS-mapped utilities tended to under-estimate both the mean utility of people who had no comorbidity and the utility-comorbidity association as compared to the observed utility-comorbidity pattern although the differences did not reach statistical significance (each
P
 > 0.05). The MRM-mapped utility showed utility-comorbidity pattern more similar to the observed. Similar findings were obtained from the validation dataset.
Conclusions
The MRM performed well. Mapping functions are available to map the SBI to the HUI-3 Utility Index.