01-08-2010 | Wetenschappelijke artikelen | Uitgave 6/2010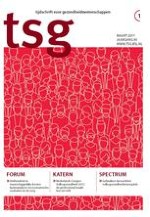 Mantelzorgende mannen: een kwestie van moeten, kunnen of willen
Tijdschrift:
Auteurs:

Pearl A. Dykstra, Anne van Putten
Belangrijke opmerkingen
Erasmus Universiteit Rotterdam
Ministerie van Sociale Zaken en Werkgelegenheid
Pearl A. Dykstra, Capaciteitsgroep Sociologie, Erasmus Universiteit Rotterdam, Postbus 1738 DR Rotterdam tel. 010-4082085.
Men's caregiving: An issue of default, opportunity or motivation
Our study of men's provision of practical and household help to their parents does not confirm the stereotype of caring sons, namely that they are caregivers by default, providing care only when there is no other family member to step in. Neither does our study clearly support the idea that men provide care when they can, that is, when they have no conflicting obligations. For example, being employed was no barrier to providing care to parents. Our findings confirm that geographic proximity facilitates the provision of care. Men are more likely to provide care when they are motivated to do so, for example because they feel that adult children are responsible for caring for frail parents. Other factors that serve as motivators are having had the model of a working mother in childhood, or feeling close to the parent. Financial incentives do not increase the likelihood that sons provide care. Sons who provide care to fathers have a somewhat lower level of well-being than sons who are not involved in paternal caregiving. Providing care to mothers makes no difference for sons' well-being. The data are from the Netherlands Kinship Panel Study.
Keywords: caregiving, gender, filial obligation, subjective well-being, Netherlands Kinship Panel Study
Samenvatting
Het eenzijdige beeld dat mannen alleen mantelzorg verlenen aan hun ouders als ze "moeten", wordt in ons onderzoek naar de intensieve hulp van zoons bij praktische en huishoudelijke taken niet bevestigd. We zien dus niet dat zoons pas gaan zorgen als ze geen broers, zussen en/of een partner hebben die de taak op zich zouden kunnen nemen. De gedachte dat mannen zorgen als ze dat "kunnen", namelijk als ze geen conflicterende verplichtingen hebben, wordt evenmin bevestigd. Zo is de kans om mantelzorg te verlenen even groot onder mannen met een baan als onder mannen zonder een baan. Wel zien we dat geografische nabijheid de kans op zorg verlenen verhoogt. Mannen verlenen zorg als ze dat "willen", dat wil zeggen, als ze daartoe gemotiveerd zijn, bijvoorbeeld omdat ze van opvatting zijn dat volwassen kinderen hun hulpbehoevende ouderen horen bij te staan. Andere motiverende factoren zijn het voorbeeld van een werkende moeder tijdens de jeugd en een kwalitatief goede relatie met de ouder. Financiële prikkels blijken de kans op zorgverlening niet te verhogen. Het subjectieve welbevinden van zorgende zoons is iets lager dan dat van niet-zorgende zoons als zorg wordt verleend aan vaders, maar niet als zorg wordt verleend aan moeders. De data zijn afkomstig van de Netherlands Kinship Panel Study.