01-04-2015 | Review Article | Uitgave 4/2015 Open Access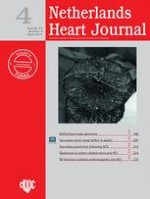 Managing patients with advisory defibrillator leads: what can we learn from published data?
Tijdschrift:
Auteurs:

F. A. Bracke, B. M. van Gelder
Introduction
Lead advisories stir a lot of emotion and provoke impulsive responses. However, the Telectronics Accufix lead experience has shown that such a response did produce more fatal complications than the injuries related to the broken retention wire [
1
]. Moreover, lead-related complications occurred less frequently than originally anticipated.
The recent advisories of the Medtronic Fidelis (Medtronic, Minneapolis, Minnesota) and St. Jude Riata (St. Jude Medical, St. Paul, Minnesota) defibrillator leads again emphasise the need to guide management through objective information. Many patients with advisory leads are approaching generator replacement, and one has to decide whether to maintain the advisory lead operational, or to implant a new lead. In addition, a decision should be made between extracting or abandoning non-functional advisory leads. The 'Recommendations from the Heart Rhythm Society Task Force on Lead Performance Policies and Guidelines' lists factors that might influence these decisions [
2
]. Patient-related factors include pacemaker dependency, risk of life-threatening arrhythmias or of surgical revision, time to generator replacement, and psychological wellbeing. The considered lead characteristics are failure rate, predictability and consequences of failure, and means to prevent the latter by reprogramming the device. In this paper, we take a look at the literature to arrive at an informed approach to patients with advisory leads.
Incidence of failure of contemporary advisory leads
Mortality and lead failure
It may be obvious that lead failure is not equivalent to mortality, but it is surprising that quantification of mortality seems to be elusive, even if more than 200,000 Fidelis and Riata leads each have been implanted. Hauser et al. screened the FDA Maude database (a databank of voluntary reports of device malfunctions), and found 22 patients in whom the demise could be linked with Riata lead failure [
12
]. However, the same report also mentioned five Medtronic Sprint Quattro leads related to mortality. The lack of a denominator in these case reports obscures the real incidence of mortality, as voluntary reporting may be biased towards more scrutiny for leads under advisory.
Only a single comparative study addressed the survival of patients with advisory leads vs. other leads, but found no difference in adjusted survival between the Medtronic Fidelis or the Sprint Quattro lead [
13
]. Moreover, in spite of the many publications on both Fidelis and Riata leads, mortality attributed to lead failure is seldom observed: only Parkash et al. mentioned one death out of 4358 Riata patients related to lead failure [
5
]. It should be noted that until now no mortality has been linked with conductor externalisation of Riata leads. In practice, the true mortality rate of advisory leads may remain elusive, as it would require systematic post-mortem interrogation of devices to separate it from the substantial natural attrition in a typical ICD population.
Only patients who would die in the absence of a working defibrillator are at risk from lead failure: in populations similar to the SCD-HeFT and MADIT II cohorts, this would account for 2–3 % every year (6 % mortality reduction in SCD-HeFT during a 3-year follow up, and 6.4 % in MADIT II after 2 years) [
14
–
16
]. In case of Fidelis leads and assuming a lead failure rate of 3 % per year, the natural attrition of around 5 % per year, and malfunctioning leads being replaced after routine controls or inappropriate shocks, some approximating calculus will show that the mortality risk is less than 0.1 % per year [
15
–
17
].
Morbidity
Proactively replacing advisory leads
Dysfunctional leads are to be replaced when continuation of (reliable) defibrillator therapy is required. However, there are no studies that compare the preventive replacement of a still normally functioning advisory lead with a wait-and-see approach.
Extracting or abandoning non-functional leads
Conclusion
Although there is a potential risk of lethal complications from current advisory leads, there is no indication that it surpasses that of prematurely replacing these leads. However, a scheduled generator exchange may be an opportune moment to consider adding a new defibrillator lead with established reliability with a limited additional risk. Still, there are no data or guidelines on what exact lead failure rate justifies this approach.
The accumulative risk of lead failure during the service time of an ICD increases with the expected longer battery life of current devices. Together with the failure rate of the Fidelis leads, it favours lead replacement during a generator exchange in our opinion. In contrast, it may be less beneficial with the currently observed electrical defects of the Riata leads. Independent and prospective collection of data on lead performance is needed for continuing evaluation of changing risk profiles.
Individual patient profiles influence the approach: in elderly patients the risk of failure may be lower, time at risk shorter, and procedural risks higher. In contrast, frequent need for defibrillator therapy, true pacing dependency, or the psychological burden of living with an advisory lead, may incline us to replace the lead.
Finally, there is no support in the literature for preventive extraction of sterile, non-functional (advisory) leads. In contrast, lead extraction has a definite risk of mortality and morbidity that is absent when leads are properly abandoned.
Conflicts of interest
Frank A Bracke: None.
Berry M van Gelder: training and education for St. Jude Medical Nederland B.V., the Netherlands, Clinical Advisor for St. Jude Medical.
Open Access
This article is distributed under the terms of the Creative Commons Attribution License which permits any use, distribution, and reproduction in any medium, provided the original author(s) and the source are credited.