01-08-2010 | Original Article | Uitgave 4/2010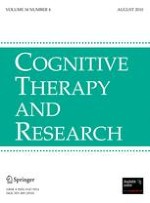 Maladaptive Schemas and Psychopathology in Adolescence: On the Utility of Young's Schema Theory in Youth
Tijdschrift:
Auteurs:

Leen Van Vlierberghe, Caroline Braet, Guy Bosmans, Yves Rosseel, Susan Bögels
Abstract
The present article reports on two studies that investigated the utility of Young's cognitive theory Young et al. (Schema therapy: A practitioner's guide, Guilford Publications, New York,
2003
) in adolescents. Study 1 focused on the factorial validity of the Young Schema Questionnaire (YSQ) in youth. In Study 2, the dimensionality of Young's schemas and their (content-specific) association with psychopathology were investigated. In Study 1, 635 adolescents were asked to complete the YSQ. In Study 2, participants were 112 non-referred and 104 referred adolescents. They were interviewed with the Structured Clinical Interview for DSM-IV–Child edition and completed the YSQ and the Youth Self Report. Their parents were asked to fill out the Child Behavior Checklist. It was demonstrated that Young's theoretically proposed taxonomy of schemas and domains can be retrieved in adolescents. Referred youth displayed a higher severity of maladaptive schemas as compared with non-referred adolescents. A content-specific association of schemas and psychopathology was established. Young's schema theory might constitute a valuable framework to understand psychopathology in youth.