01-06-2010 | Original Article | Uitgave 3/2010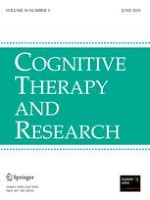 Maladaptive Cognitive Schemas in Alcohol Dependence: Changes Associated with a Brief Residential Abstinence Program
Tijdschrift:
Auteurs:

Louise Roper, Joanne M. Dickson, Claire Tinwell, Peter G. Booth, James McGuire
Abstract
Previous research has suggested that alcohol dependency may be associated with particular cognitive schemas. The objective of this study was to examine the severity of reported maladaptive schemas, and of anxiety and depression levels of an alcohol dependent group prior to and following a period of abstinence, and in comparison with a non-clinical sample. A total of 100 participants, comprising an alcohol dependent clinical (ADC) group (
n
= 50) and a non-clinical group (
n
= 50), were recruited. Data were collected on demographic characteristics, drinking patterns, severity of alcohol dependence, depression, anxiety, and maladaptive schemas. ADC participants reported higher levels of depression and anxiety than did the non-clinical group immediately before a period of abstinence. The groups differed significantly on 6 of 15 schema beliefs. Following a brief (3-week) period of abstinence and participation in a psycho-educational program, the ADC group demonstrated significant improvements in relation to depression, anxiety, and 13 out of 15 maladaptive schema beliefs. Further research is required to understand the association and potential relevance of particular schemas to alcohol dependency.