07-11-2018 | Point of View | Uitgave 12/2018 Open Access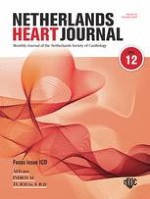 Magnetic resonance imaging in patients with cardiac implantable electronic devices
Tijdschrift:
Auteurs:

A. H. Maass, M. E. W. Hemels, C. P. Allaart
Abstract
In recent years the prevalence of implantation of a cardiac implantable electronic device (CIED) has increased due to expanding implantation indications and prolonged life expectancy. Diagnostic strategies increasingly employ magnetic resonance imaging (MRI) to aid therapeutic strategies. In earlier guidelines, MRI was contra-indicated in patients with CIEDs, mainly due to previous reports of severe complications. With the development of MRI-conditional CIEDs and recent evidence concerning non-MRI-conditional CIEDs, MRIs in CIED patients can be safely performed in many hospitals.
However, there are several questions that need to be addressed. Which patients can we scan? How can the scans be performed safely? And last but not least, can cardiac MRI provide diagnostic yield in patients with CIEDs?
Current European guidelines are rather outdated and vague about patient selection and practical issues. There are national guidelines on this topic but several issues need extra attention and those are addressed in this point of view. It is important to create an environment with proper patient selection without unnecessary MRI scans in CIED patients, but also without unnecessary fear of complications, preventing access to MRI in patients who can benefit from this powerful diagnostic tool.