2011 | OriginalPaper | Hoofdstuk
M29 NHG Clinical Practice Guideline Feverish illness in Children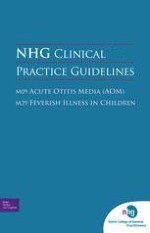 eerste hoofdstuk lezen
Auteur: Joost Blijham
Uitgeverij: Bohn Stafleu van Loghum
Key messages
Fever is usually caused by a viral infection. Recognising children with a serious underlying disease in time is important.
Warning symptoms are more important than the height of the fever.
Children under the age of 3 months are at higher risk of a serious underlying disease.
Temperature measurements in children under the age of 3 months must be verified rectally.
A distinction is made between observations by parents and assessment by the GP. The parents/caregivers need to watch out for alarm symptoms; the GP assesses whether there are warning symptoms that can be objectified.
Information about the child's past medical history is requested during telephone triage.
In children under the age of 2 with fever without apparent source, after history-taking and physical examination, urine testing should now be performed on the same day.
In cases of fever without apparent source, reappraisal is recommended within 24 to 48 hours.
A typical febrile convulsion is a benign condition.