01-12-2019 | Research | Uitgave 1/2019 Open Access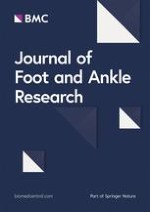 Lower limb vascular assessment techniques of podiatrists in the United Kingdom: a national survey
Tijdschrift:
Auteurs:

Peta Ellen Tehan, Martin Fox, Sarah Stewart, Susan Matthews, Vivienne Helaine Chuter
Belangrijke opmerkingen
Electronic supplementary material
Abstract
Background
Podiatric vascular assessment practices in the United Kingdom (UK) are currently unknown. This study aimed to describe the current practices for performing lower limb vascular assessments by podiatrists in the UK, and, to investigate the effect of practitioner characteristics, including education level and practice setting, on the choice of tests used for these assessments.
Methods
A cross-sectional observational online survey of registered podiatrists in the UK was conducted using SurveyMonkey® between 1st of July and 5th of October 2018. Item content related to: practitioner characteristics, vascular testing methods, barriers to completing vascular assessment, interpretation of vascular assessment techniques, education provision and ongoing management and referral pathways. Descriptive statistics were performed, and multinomial logistic regression analyses were used to determine whether practitioner characteristics could predict the choice of vascular tests used.
Results
Five hundred and eighty five participants accessed the online survey. After drop-outs and exclusions, 307 participants were included in the analyses. Comprehensive vascular assessments had most commonly been performed once (15.8%) or twice (10.4%) in the past week. The most common indicators for performing vascular assessment were symptoms of suspected claudication (89.3%), suspected rest pain (86.0%) and history of diabetes (85.3%). The most common barrier to performing vascular assessment was time constraints (52.4%). Doppler examination (72.3%) was the most frequently reported assessment type, with ankle-brachial index (31.9%) and toe brachial index (5.9%) less frequently performed. There were variable interpretations of vascular test results. The most common topic for education was smoking cessation (69.5%). Most participants (72.2%) were confident in determining ongoing management, with the majority referring to the patient's general practitioner (67.6%). Practitioner characteristics did not predict the types of vascular tests performed.
Conclusion
The majority of vascular assessments currently performed by podiatrists in the UK are inconsistent with UK or international vascular guidelines and recommendations. Despite this, most podiatrists felt confident in diagnosing, referring and managing patients with peripheral arterial disease (PAD), however many felt they needed more education to feel confident to assist patients with PAD to manage their cardiovascular risk factors.