01-03-2011 | Klinische les | Uitgave 3/2011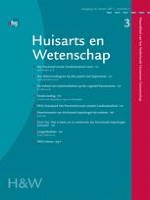 Longembolieën
Tijdschrift:
Auteurs:

Bart Kuipers, Jan Willem van den Berg, Roger Damoiseaux, Stefan Walen
Samenvatting
Walen S, Kuipers B, Van den Berg JW, Damoiseaux R. Longembolieën. Huisarts Wet 2011;54(3):166-9.
Over de precieze sterftecijfers door onbehandelde longembolieën zijn de deskundigen het niet eens. Een tijdige diagnose kan echter van levensbelang zijn. Longembolie hoort daarom altijd in de differentiaaldiagnose te staan bij plotseling ontstane dyspneu, maar ook bij onverklaarde toename van een al langer bestaande dyspneu. Anamnese en lichamelijk onderzoek zijn verder weinig specifiek, maar het objectiveren van de pols- en ademhalingsfrequentie kan ons op het juiste spoor zetten, evenals het zoeken naar tekenen van diepe veneuze trombose. Het in de tweede lijn gebruikte beslismodel op basis van de welsscore, een D-dimeertest en een spiraal-CT laat zich nog niet goed vertalen naar de eerste lijn. Een D-dimeertest kan bij patiënten met een lage voorafkans zinvol zijn om longembolie uit te sluiten, maar de waarde hiervan in de eerste lijn is nog niet afdoende onderzocht.
Isala klinieken, afdeling Longziekten, locatie Weezenlanden, Postbus 10500, 8000 GM Zwolle: S. Walen, co-assistent; A.F. Kuipers, longarts; dr J.W.K van den Berg, longarts. Huisartsenpraktijk 'de Hof van Blom', Hattem: dr R.A.M.J. Damoiseaux, huisarts.
Correspondentie: rdamoiseaux@hotmail.com
Mogelijke belangenverstrengeling: niets aangegeven.
Abstract
Walen S, Kuipers B, Van den Berg JW, Damoiseaux R. Pulmonary embolism. Huisarts Wet 2011;54(3):166-9.
Experts disagree about the exact mortality of untreated pulmonary embolism, but timely diagnosis can save lives. For this reason, lung embolism should be part of the differential diagnosis of sudden-onset dyspnoea or an unexplainable exacerbation of existing dyspnoea. The history and physical examination provide little specific information, but the pulse and respiratory rate should always be measured and the patient examined for signs of deep vein thrombosis. The decision algorithm used in secondary care, which is based on the Wells score, D-dimer test, and spiral computed tomography, is not readily translatable to primary care; however, a D-dimer test may be relevant to exclude pulmonary embolism in some patients, but the value of this in primary care has not been adequately investigated.