07-09-2017 | Uitgave 1/2018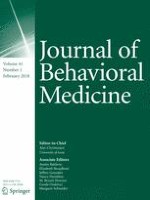 Life satisfaction and inflammation in couples: an actor–partner analysis
Tijdschrift:
Auteurs:

Bert N. Uchino, Robert G. Kent de Grey, Sierra Cronan, Timothy W. Smith, Ed Diener, Samantha Joel, Jos Bosch
Abstract
Life satisfaction has been linked to lower cardiovascular disease mortality. However, much less is known about the biological mechanisms linking life satisfaction to physical health. In addition, the dyadic context of life satisfaction has not been considered despite increasing evidence that partners influence each other in health-relevant ways. These questions were addressed with 94 married couples who completed measures of life satisfaction and had their blood drawn for determination of interleukin-6 (IL-6) and C-reactive protein (CRP). Actor–partner models showed that higher actor levels of life satisfaction predicted lower levels of IL-6 and CRP (
p
's < .05), whereas partner levels of life satisfaction did not predict any measure of inflammation. The actor results were not mediated by marital satisfaction or health behaviors. Finally, no actor × partner interactions were significant and these links were not moderated by marital satisfaction. These data highlight inflammation as a potentially important biological mechanism linking actor reports of life satisfaction to lower cardiovascular mortality.