27-01-2021 | Uitgave 3/2021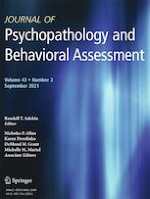 Levels of Personality Functioning Questionnaire (LoPF-Q) 12–18 Turkish Version: Reliability, Validity, Factor Structure and Relationship with Comorbid Psychopathology in a Turkish Adolescent Sample
Auteurs:

Sefa Cosgun, Kirstin Goth, Suleyman Cakiroglu
Belangrijke opmerkingen
Publisher's Note
Springer Nature remains neutral with regard to jurisdictional claims in published maps and institutional affiliations.
Abstract
Levels of Personality Functioning Questionnaire (LoPF-Q 12–18) is a scale developed for adolescents to assess impairments in personality functioning inspired by criterion A in the Alternative Models for Personality Disorder (AMPD) in DSM-5 and the upcoming ICD-11. In this study, we aim to evaluate the validity and reliability of a Turkish culture-adaption of LoPF-Q 12–18. The study was conducted with a student (
n
 = 282) and a clinical sample (
n
 = 52), 41% of the participants were male, and 59% were female. The questionnaire showed good scale reliability alpha and a sound unidimensional factor structure build of four scales of functioning: Identity, Self-direction, Empathy, and Intimacy. Aspects of convergent and discriminant validity were evaluated using the Strengths and Difficulties Questionnaire (SDQ). There were medium to strong positive relationships between the LoPF-Q 12–18 and the SDQ scores reflecting pathology in line with theory. Clinical validity could be demonstrated, the LoPF-Q 12–18 total score differed significantly and with a large effect size of 1.2 standard deviations between the school sample and a sample of
N
 = 25 patients with diagnosed PD. In general, our results support the validity of the Turkish version of the LoPF-Q 12–18 and emphasize the benefits of using the dimensional severity concept for the classification of personality disorders already in adolescence.