01-12-2009 | Review | Uitgave 1/2009 Open Access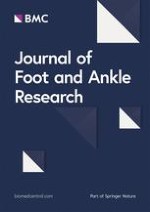 Lessons from dynamic cadaver and invasive bone pin studies: do we know how the foot really moves during gait?
Tijdschrift:
Auteur:

Christopher J Nester
Belangrijke opmerkingen
Electronic supplementary material
The online version of this article (doi:
10.​1186/​1757-1146-2-18
) contains supplementary material, which is available to authorized users.
Competing interests
The author declares that they have no competing interests.
Authors' contributions
The author is the sole writer of this paper. Contributions from prior research collaborations are identified under acknowledgements.
Background
Thankfully, in biomechanics terms, we no longer view the foot as the triangle at the bottom of the leg. The term "foot" suggests that some single functional entity exists, when in fact the 26 bones, hundreds of ligaments and muscles demands that we adopt a far more complex conceptual and experimental model of the foot. In any discussion of foot biomechanics, the foot is traditionally broken into at least two parts, the rearfoot and midfoot, tending to focus on the subtalar and midtarsal joints. In the last decade multi-segment foot models have provided new insight into how the small and often assumed minor articulations in the foot move [
1
–
5
]. This can help inform both our understanding of 'normal' foot biomechanics, upon which much of clinical and surgical practice is based, and the development of clinical and experimental hypotheses as to how pathology occurs. This links directly to how foot orthoses, footwear and surgery might be best used to elicit a biomechanical effect and subsequent clinical response.
However, multi-segment foot models have their own limitations. Inevitably, the skin to which markers are attached moves relative to the underlying bones they are intended to represent. More critically, we cannot reliably measure the motion of each individual bone in the foot. This may result in incorrect extrapolation from multi segment foot model data about the kinematics of joints that comprise a segment within that model.
The perfect experimental (and clinical) scenario is that we are able to directly measure the kinematics of the individual bones of the foot. Access to tissues of the foot would provide real insight and quickly enable to us test many clinical hypotheses that have persisted despite a lack of evidence to substantiate them. Advancement in our understanding could be greatly accelerated. In coming years, dynamic imaging techniques may offer excellent solutions to the challenge of measuring the performance of individual structures in the foot (though these will have their own limitations) but until these are available we must rely on direct physical contact with structures of the foot as the best means of measuring foot motion.
Methods
Two approaches to the problem of accessing and measuring the biomechanics of individual anatomical structures in the foot have been taken, (i) static and dynamic cadaver models, and (ii) invasive in-vivo research. Cadaver models offer the advantage that there is complete access to all the tissues of the foot, not just the bones, and you can investigate other aspects of the foot that might influence its 'performance' through subsequent dissection (such as checking for the presence of arthritic changes in a joint). It is pertinent to question whether dead tissue behaves in the same manner as living tissue, but this issue seems to be regarded as an acceptable limitation if care is taken in use of the tissues. However, the greatest disadvantage is that the cadaver must be manipulated and loaded in a manner which replicates how the foot would have performed when in-vivo. Static cadaver models fail to replicate any functional task of note though they can still offer some insight into the basic function of ligaments or muscles, and soft tissue properties. Dynamic cadaver models attempt to make the cadaver feet 'walk again' but achieving this is very complex [
6
–
16
] (Additional file
1
). The cadaver must be mounted on a mechanism that has as many degrees of freedom as the human body. Loads must be applied to the specimen and its tendons at a magnitude and rate as occurs in gait (or as close as possible). Moving the specimen and loading the individual tendon and tibia/foot structures must be synchronised exactly. These parameters must also be adjustable as the input data driving the dynamic model (typically tibial motion, forces applied to the tibia/plantar surface and residual tendons) is at best an average of a small number of other feet, and certainly not in-vivo data from the foot being tested.
Invasive in-vivo foot kinematics research has a long history [
17
–
26
] and it has been some of the most cited work in the field (Additional file
2
). The key value of this data is its validity in describing how the bones of the foot move, but the key difficulty is how generalisable this data is to the wider population. The truth is that the data are not generalisable, but data have already proved their value by providing evidence to refute several traditional ideas of foot function. Critically, it has helped demonstrate the significant inter-subject variation that exists. This questions any notion of a model of foot function that is based on the concept of a single 'ideal' foot type, foot alignment or movement pattern. Other difficulties with an invasive approach are that in most cases access is limited to the bones, and even then, only a selection of foot bones. There is also the issue of whether participants walk normally with pins inserted and using footwear and orthoses is very difficult (though not impossible [
19
]). Some question the ethical basis to this research, but in fact there is a long tradition of invasive research without reports of complications in participants who follow protocol. Surgery is via minimal incision in sterile conditions and under local infiltration of anaesthesia. There are clear post study protocols for weightbearing and medical support.
Results and discussion
What have we learnt about foot and ankle kinematics?
Conclusion
Do we know how the foot really moves during gait?
Recent dynamic cadaver and invasive kinematic research has provided some useful insights. The rearfoot plays only a part of overall foot kinematics and we have consistently undervalued the contribution from mid- and forefoot articulations. This suggests that in order to control foot pronation, orthoses need to provide support across the entire rear- and mid foot and that the use of heel wedges alone is unlikely to produce the desired biomechanical effects on the foot. The forefoot undergoes a complex series of rotations which must influence the action of the intrinsic muscles of the foot, and researchers are only recently being able to investigate some of their functions [
6
].
Finally, variation between people in foot kinematics is high and normal. This includes variation in how specific joints move and how combinations of joints move. The foot continues to demonstrate its flexibility in enabling us to get from A to B via a large number of different kinematic solutions. Rather than continue to apply a poorly founded model of foot type whose basis is to make all feet meet criteria for the mechanical 'ideal' or 'normal' foot, we should embrace variation between feet and identify it as an opportunity to develop patient-specific clinical models of foot function. Clinicians should consider foot function in terms of the entire foot, and, given what we know about the variation between subjects, the general ranges of motion likely at specific joints, and what is observable clinically, rationalise the most likely kinematic solution for each patient. It is hoped that patient-specific conceptual models for foot biomechanics will lead to improved understanding of the role (if any) of foot biomechanics in causation of foot and lower limb problems, and improve our design of orthoses such that they have more precise and predictable biomechanical effects. With evidence of wide variation in foot kinematics from even small samples of participants, and of patient-specific response to orthoses [
19
], how can clinical practice continue to be so heavily based on the idea that one foot model should fit all, and that orthosis design and prescription is based on the ideal foot, rather than the dynamics of the foot of each patient?
Acknowledgements
The author wishes to acknowledge important contributions from three teams with whom the author collaborated to collectively produce the research discussed in this paper. Dr's Erin Ward (DPM), Jay Cocheba (DPM) and Tim Derrick (PhD), from and affiliated with Iowa State University USA. Dr's Toni Arndt (PhD) (University College of Physical Education and Sport, Stockholm, Sweden), Arne Lundberg (PhD) and Paul Lundgren (Karolinska Institute, Stockholm, Sweden). Dr Peter Wolf (PhD) and (late) Dr Alex Stacoff (PhD) of Institute of Biomechanics, ETH Zurich, Switzerland. Prof David Howard, Richard Jones and Anmin Liu of the University of Salford, UK.
Competing interests
The author declares that they have no competing interests.
Authors' contributions
The author is the sole writer of this paper. Contributions from prior research collaborations are identified under acknowledgements.